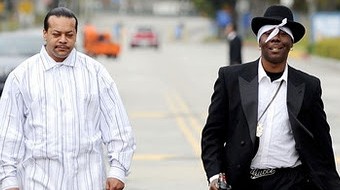 Today marks the release of Suga Free and Pimpin' Young's long awaited collaboration double album "Thunder & Lightning", which is now available oniTunes, Amazon and all digital retailers via P.I.M.P. On Ent/EMPIRE Distribution.
The 28-track album(s) showcase the two pimps spitting game and humorous stories about their life experiences, with guest appearances from Twista, LaToiya Williams, Jelly Roll, Bad Azz, Bizzy Bone, Audio Push, The Pomona City Ridaz and more.
Expect a video from the album soon, for now we have an exclusive leak for you to post, the smooth "Everything You Need", which features Chi-town spitter Twista and soul crooner LaToiya Williams:
Suga Free & Pimpin' Young – Everything You Need (ft. Twista & LaToiya Williams)
Enjoy the record and make sure to support the album if you like what you hear!