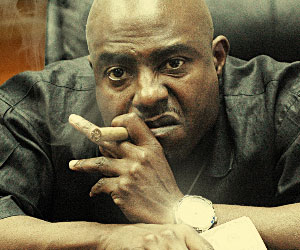 West Coast OG Big Hutch from Above The Law spend 2011 focusing on new music including Electric Lady from the EF U Hutch EP and Lord Have Mercy from his long awaited Only God Can Judge Me album.
He later dropped a video for Big Hutch's Revenge before releasing his From Pomona With Love mixtape for free download on Dubcnn in March of this year. Last week we heard from Big Hutch under very different circumstances with the tragic news that Kevin "KMG" Gulley Of Above The Law Had Passed Away.
Today we return with a press release and video relating to his music that details a lawsuit he has filed that relates to the "Love Is Blind" record by EVE that featured on the 1999 release "Let There Be Eve…Ruff Ryders' First Lady."
In the suit Hutch claims to have co-wrote and produced the track – even calling in the Aftermath songtress Truth Hurts to sing the hook – before EVE made the transition from Aftermath to Ruff Ryders where "Love Is Blind" was then completed and released; but without credit to Hutch. He approached Aftermath for help but without proof they could not help in the claim.
In the years that have followed Hutch has been incarceration and only during this time of re-establishing himself has he found the original cassette tape of the recording in a storage unit that contains all of his masters since the beginning of his career; a video of Hutch playing that tape can be watched below – judge for yourself.
Big Hutch vs Aftermath/Ruff Ryders – Eve "Love Is Blind" Recording Lawsuit
At the time of going to press Big Hutch has stated he will continue to pursue this legally.