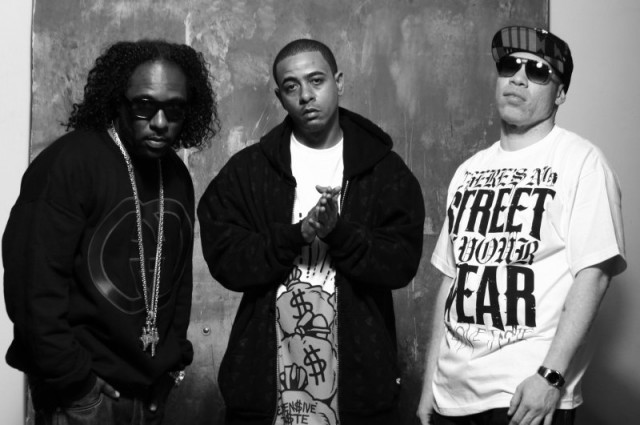 Last year Strong Arm Steady dropped the "Arms & Hammers" project and we dropped media including the Game featured Trunk Music [plus the Original Version which featured Phil The Agony], the video for Make Me Feel featuring Jelly Roll, the Too Short featured video for On Point as well as the full version of that Terrace Martin produced single On Point before dropping the DJ Khalil produced Klack or Get Klacked.
In the leadup to the album we also caught up with Strong Arm Steady for an exclusive interview and dropped Smokin and Drinkin.
Then in April this year the group disappointed fans with news that their upcoming LP "Stereotype" wasn't ready for release but at the same time blew fans away with the release of an incredible 7-track free-release of unreleased gems! Members Only which was released for Free Download and via the Dubcnn Streaming Audio Players featured production from Mars of 1500 or Nothin, Nottz, Sid Roams, DJ Khalil, Lee Bannon and The Art Teacher as well as vocals from Mistah F.A.B., Jelly Roll, Washay Choir and Obie Trice.
Last month we confirmed that "Stereotype" will drop on August 14th via Stones Throw Records and dropped the tracklist and the official music video for Premium – see; Strong Arm Steady & Statik Selektah Prep LP, Drop Video.
In support of the upcoming album Strong Arm Steady and Statik Selektah have released a FREE 6 track album preview on Dubcnn with features 6 songs from the upcoming album. Guest appearances on this EP include Bad Lucc, David Banner, Dom Kennedy, Chace Infinite and others, while the full length album features additional guest appearances Black Hippy, Casey Veggies, Planet Asia and others.
We have the full project for you to download free or stream via our streaming audio players.
Strong Arm Steady & Statik Selektah – Stereotype EP (Free Download)
Strong Arm Steady & Statik Selektah – Stereotype EP (Streaming Audio)
Enjoy the free release and stay locked to Dubcnn for the latest on "Stereotype" which drops August 14th via Stones Throw Records – Pre-Order Here Today!