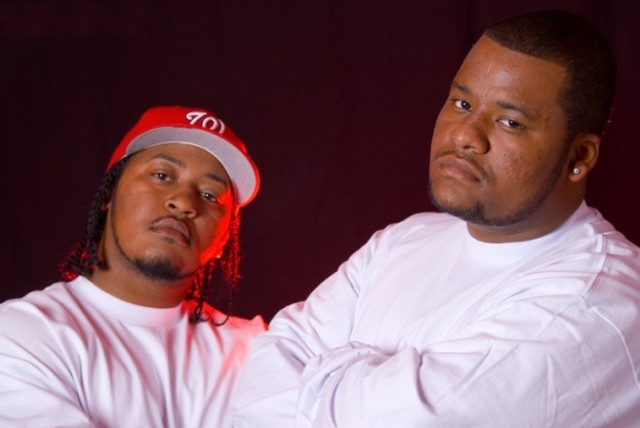 In February we had the Young Giantz, a duo consisting of Deuce Mac and Bigg Joe West both of whom are sons of West Coast legend Playa Hamm, back on Dubcnn with new music!
The first time we heard from the duo was in 2007 with the banging single Weeest! which featured Playa Hamm, then the next single Big Big Bizness in 2008 before dropping Truthfully Speak'n, Catch Da Fade, I'm a Dodger and U Can Get It during 2009, all hyping up their then to be released Gqcality mixtape which dropped in January 2010 hosted by DJ Battlecat.
The release of Gqcality also saw a video drop for the single Weeest and since that all we've had from the duo was the late 2010 drop Paystyle Pt. 2 and this Exclusive Video Interview With The Young Giantz in Summer 2009.
Then in February we dropped off a new single produced by DJ Battlecat called Don't Stop Party'n that is set to appear on the "Itz In Uz, Not On Uz" album due later this year. The single, which can also be bought via iTunes, was the first media in over 18 months and last month we were back with Foeva On Sum Giantz Shyt over the Nipsey Hussle record Forever On Some Fly Shit as well as a new music video directed by James Wade for a new track entitled Do Betta that featured Titus Notez.
In May we returned with news that the duo had teamed up with Big 2Da Boy for a mixtape release entitled St Helens featuring Eastwood, C-Love, Toke Da Smoke, Tha Chill, Meeso, Gangsta Dre'sta and move over production from Terrace Martin, Seige Monstracity, Face Trakz, Johnny Juliano and more.
Deuce Mac and Bigg Joe West have been riding on the success of St Helens since its release but today they show that they wont be slowing down as they drop a brand new track and video. "Been Thru Alot" features A. Gee over a Seige Monstracity production that has been directed by BabyPooc of BusinessMan Music Group – watch it below!
Young Giantz – Been Thru Alot (Feat. A. Gee) (Video)
Stay tuned to Dubcnn for the latest on the upcoming Giantz project and remember you can buy "Don't Stop Party'n" produced by DJ Battlecat on iTunes for only $0.99. Lookout for the "#LOVELOVE" mixtape and the album "Itz In Uz, Not On Uz" coming soon! Until then ensure you follow Young Giantz on Twitter.