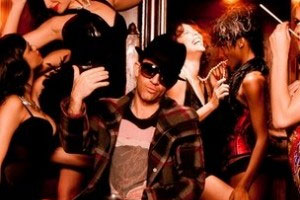 Yesterday we introduced Patience Price [see Patience Price Ventures "Into Hell" For New Video] thanks to his Jerome D directed video Into Hell and that fact he's managed by David Faustino – aka "Bud Bundy," aka "Grandmaster B" under Old Scratch Records.
Today the homies at HipHopDX have dropped this great interview with David Faustino. In it they get some exclusive information from the days when he – known to television viewers then as Bud Bundy from the groundbreaking sitcom Married… With Children – ran his Balistyx Hip-Hop nights at Whisky a Go-Go on the Sunset Strip in the early 1990s.
In the interview he recounts how will.i.am defeated Xzibit in battle; "Yes, it is true. [will.i.am] rocked the mic for so long there. And in Xzibitメs defense ヨ and not to take anything away from Will whatsoever ヨ Will had built up quite a fan base at Balistyx by that time. He had just built up a giant fan base in that audience. And like I said, he murdered shit on the mic. So cats that didnメt have that fan base yet built up, because he had been reigning champion on that mic for so long, they didnメt really stand too much of a chance. I canメt quite remember how close the battle was, but yes, Will definitely continued to hold his place at #1 on the mic there.",
He also detailed how Eazy-E once danced to the Ice Cube diss "No Vaseline" – "I remember Eazy, he would come through all the time. And then toward the end of N.W.A., when all the shit was going down with Ice Cube, I remember he was there one night. He had just rolled through by himself. Speed was spinning and Eazy rolled through by himself to see Speed, just to hang out. I donメt think Speed was deejaying at that moment, someone else was on the tables, and they spun [Ice Cubeメs] モNo Vaseline.ヤ And, you know, what could Eric do but just kind of [go with it]? He got into the spirit of it. He was on the balcony and people could see him, and he just kinda like got into the song and was singing along and bopping his head and moving his arms and shit to the crowd. What could he do, run away? He was a good cat."
The interview goes on to discuss Patience Price] and his label Old Scratch Records and so much more, its well worth a read and we urge you to read it now! S/O to Paul W Arnold & HHDX.