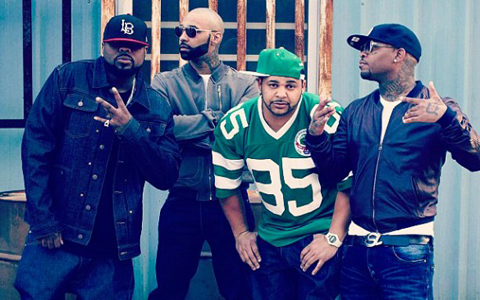 Last month we reminded you that the release of the long awaited Slaughterhouse debut album – "welcome to: Our House" – on Eminem's Shady Records was quickly approaching and that the supremely talented lyrical quartet – Crooked I, Joe Budden, Joell Ortiz and Royce Da 5'9 – had released the video to My Life featuring Cee-Lo Green.
We followed that up with the official album cover – shown – along with word that "welcome to: Our House" will be released on August 28th 2012 and will be executive produced by Eminem.
Then last week we followed up with the Mr. Porter produced lead single featuring Swizz Beatz entitled Throw It Away that you can cop on iTunes and today we can confirm that the group will release a DJ Drama fronted "Gangsta Grillz" in the next few weeks.
From that mixtape the group have just leaked "Weight Scale" where they destroy Nas' "Nasty" instrumental – listen below!
Slaughterhouse – Weight Scale (Audio)
Stay locked to Dubcnn for the latest as we build towards "welcome to: Our House" on August 28th 2012 – until then support by buying the single via iTunes.