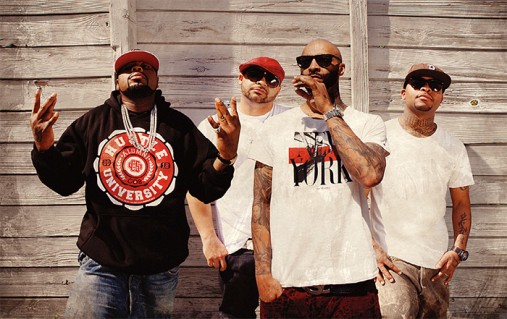 In recent weeks we've been building up to the planned release of the long awaited Slaughterhouse debut album – "welcome to: Our House" – via Eminem's Shady Records on August 28th 2012.
The supremely talented lyrical quartet – Crooked I, Joe Budden, Joell Ortiz and Royce Da 5'9 – had released the video to My Life featuring Cee-Lo Green, confirmed "welcome to: Our House" would be executive produced by Eminem, released the Mr. Porter produced lead single featuring Swizz Beatz entitled Throw It Away that you can cop on iTunes and announced a DJ Drama fronted "Gangsta Grillz" in the coming weeks with the Weight Scale buzz-record over the Nas' "Nasty" instrumental.
This week long-time Crooked I collaborator Cali Untouchables DJ September 7th has released his own "Best of Slaughterhouse" mixtape to whet your appetite for the LP. The "House Arrest" mixtape – which can be downloaded below – is 23 tracks deep and features an array of quality music from the last 2 years – check it below for FREE!
DJ September 7th Presents: Slaughterhouse – House Arrest (Free Download)
Enjoy and ensure you stay locked to Dubcnn for the latest as we build towards "welcome to: Our House" on August 28th 2012 – until then support by buying the single via iTunes.