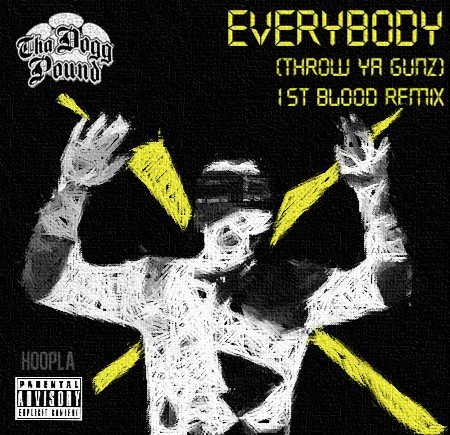 1st Blood is an artist that hails from Nottingham, England and today is dropping off his remix of the Dogg Pound record "Everybody (Throw Ya Gunz)" for free download for Dubcnn.com readers.
1st Blood will already be a name known to you if you've followed our updates on Audio Stepchild – who dropped the WIDEawake / Death Row distributed album "Every Coincidence Is Significant" that has features from Tha Chill of Compton's Most Wanted, Jayo Felony, Knoc-turn'al, MC Breed, Nappy Roots, Roc Raida and more – and from whom had the stellar record Watchoutboy (The Grand Finale) (Feat. Jayo Felony, Knoc-turnメal, Sly Boogie, Ms Toi, Charlie Clipze, Wickham, Noah Jones, Jimmy 2 Tymes, Slimm Calhoun, Black Owned C Bone) from the Every Coincidence Has A Mixtape that we dropped.
1st Blood was also featured on another WIDEawake / Death Row release with Sabrina for her debut "Something Like A Renegade" and the latest Nappy Roots full length offering titled "Sh!t's Beautiful"
Checkout the "Everybody (Throw Ya Gunz)" 1st Blood remix below and then drop your feedback via our forums, Facebook or Twitter.
1st Blood Remix of Dogg Pound's Everybody (Throw Ya Gunz) (Audio)
Stay tuned to Dubcnn for more on 1st Blood – until then follow him on Twitter.