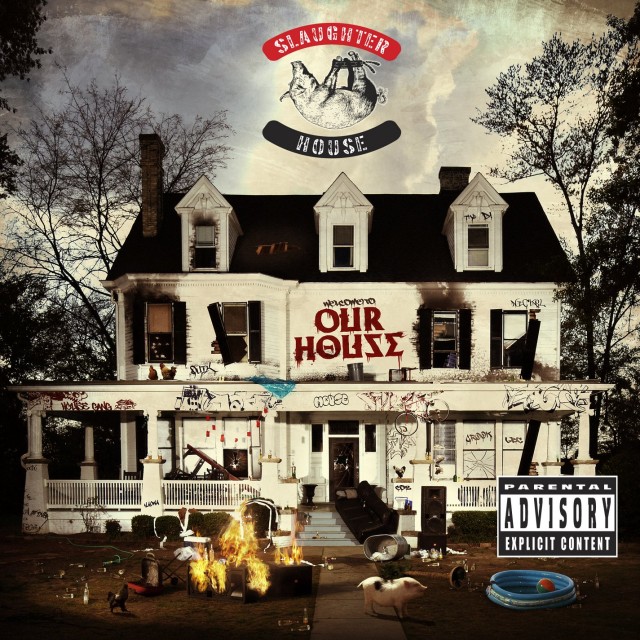 Today is the day that the long awaited Slaughterhouse debut album – "welcome to: Our House" – has been released via Eminem's Shady Records. The lyrical quartet – Crooked I, Joe Budden, Joell Ortiz and Royce Da 5'9 – have been on a relentless grind in recent months dropping a video to My Life featuring Cee-Lo Green, unleashing the Mr. Porter produced lead single featuring Swizz Beatz entitled Throw It Away that you can cop on iTunes, dropped Weight Scale from their DJ Drama fronted "Gangsta Grillz" mixtape On The House which we dropped for Free Download and via Streaming Audio.
In our most recent updates we dropped the Eminem featured Throw That, the Busta Rhymes featured Coffin and Flip A Bird.
The sample records are once again within the tracklist below, check them then head over to iTunes to cop it!
01) The Slaughter (Intro)
02) Our House (Feat. Eminem & Skylar Grey)
03) Coffin (Feat. Busta Rhymes)
04) Throw That (Feat. Eminem)
05) Hammer Dance
06) Get Up
07) My Life (Feat. Cee-Lo Green)
08) We Did It (Skit)
09) Flip A Bird
10) Throw It Away (Feat. Swizz Beatz)
11) Rescue Me (Feat. Skylar Grey)
12) Frat House
13) Goodbye
14) Park It Sideways
15) Die
16) Our Way (Outro)
"welcome to: Our House" is available now on iTunes.