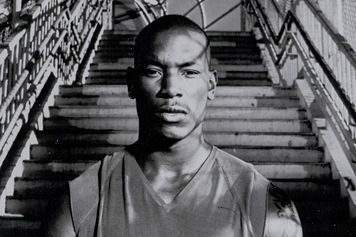 For Tyrese fans and followers across the world, DubCNN has once again teamed up with Black Ty aka Tyrese to offer another incredible collection of some of his greatest music.
Over 50 tracks (!!) deep, this is the single biggest collection we've ever distributed – filled with exclusive and unreleased material along with some of the gems that Ty recorded throughout the past years. We are proud to have the opportunity to present this impressive musical legacy to all of you – FOR FREE.
The star-studded project is aptly titled "Invisible Bully: The Lost Tapes" and features some of the greats of the music industry: Rick Ross, Kanye West, DMX, Gladys Knight, Snoop Dogg, Kurupt, Robin Thicke, Brandy, Jay Rock, Freeway, Akon, Cassidy, R. Kelly, Tank, Ginuwine, Big Sean, T.I., Busta Rhymes are just a few of the appearances on the project.
Here are a few words from the man himself:
"I believe …. Every Gift' taken for granted will become some form of a curse, I'm blessed w/ the Gift' of music in many forms.. Singing, rapping, writing and producing … Life without music is like not breathing… 50 songs from the heart belong to you… Some old some new.. Love it, Feel it, Embrace it….
I jumped on the mic as a singer-turned.MC, caught a lot of heat and controversy for doing it and now all a sudden every singer has an alter ego and wanna rap…. And a lot of rappers are trying to sing… Classic…. Music is music, there is no such thing as "STAY IN YOUR LANE..!!" WHEN YOU'RE A LANE CREATOR!!!
I wanna dedicate this Mixtape to Chris Lighty one of the first to believe in me as Black-Ty R.I.P May your soul rest in heaven." -Tyrese aka Black-Ty-
For the full tracklist and download link and other goodies, head over to the official Black Ty "Insivisible Bully" page:
DubCNN Presents Black Ty aka Tyrese – Invisible Bully: The Lost Tapes (Free Download)
Enjoy the music and stay tuned to DubCNN for more Tyrese very soon!