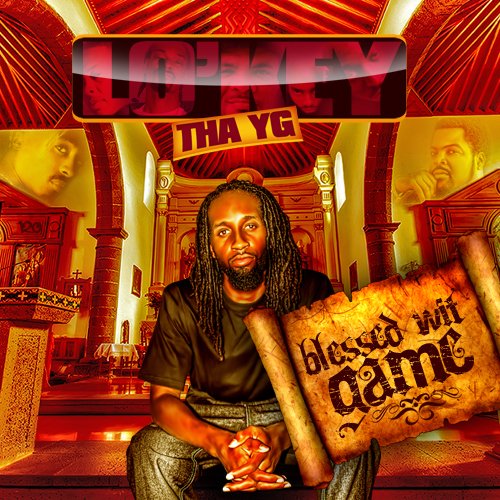 Lokey Tha Y.G. first became known to our readers when Game shouted him out on his Stop Snitchin', Stop Lyin' DVD, after that the Pomona rapper appeared on Dubcnn as an artist in 2007 with his Chuckz & Cortez single featuring Miz Tasti & Dirty Knucklez.
There was a long hiatus from that update until he re-emerged in 2010 with the track Crack Ya Knucklez featuring Bosssolo and Miz.Tasti that was said to be from his first official album titled "Blessed Wit Game" for which he had recruited Playa Hamm, Kokane and Above the Law to appear on the album.
The release date came and went and Lokey Tha Y.G. returned again in December last year to say "Blessed Wit Game" would drop in February 2012 and was set to feature Playa Hamm, Amazon, Ramon, Tray Deee of Tha Eastsidaz, Lench Mob's JDee, Miz Tasti, Bossolo, Ha-Ha Loco from Pomona City Rydaz and more – as well as brining us the video for his single Fo Fingaz Up.
Again the release slipped but today Lokey Tha Y.G. has shot over the cover for "Blessed Wit Game" – click the image to enlarge – as well as a brand new record, the title track, featuring Big2daboy and B.G Knoccout. The track is not yet mastered for the album but the LP is now expected in September.
Lokey Tha Y.G. – Blessed Wit Game (Feat. Big2daboy & B.G Knoccout) (Audio)
Be sure to follow Lo'Key on Twitter and stay locked to Dubcnn for news and media from "Blessed Wit Game."