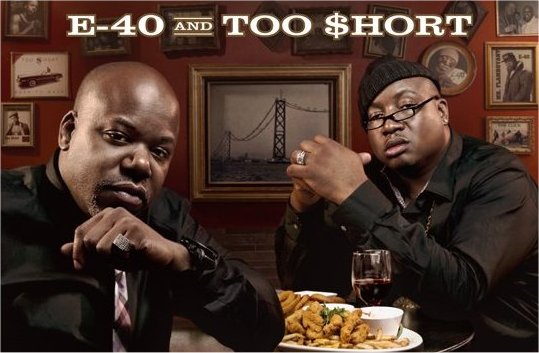 Last month news appeared that E-40 and Too $hort were working an a collaboration project called "The History Channel " that would be released later this year. While many outlets were assuming this was an as yet unknown project Dubcnn spoke with E-40 for this exclusive interview in March 2011 where E-40 said
Dubcnn: You're also going to be finally releasing your long awaited collaboration album with Too Short, "The History Channel". Explain to us why this time we should actually believe that it's coming out? E-40: *laughs* Cause we've already been in the lab, and the MAIN reason why you must believe that it's coming out, is because we are not under any contractual major label situation. We are independent. Dubcnn: Yeah, Short told me in our interview that Jive didn't want ya'll to make an album together? E-40: Right! And we never understood! We got love for Jive, but we always questioned them about that, like why wouldn't you wanna do that? It's certain things that they just wouldn't let us do and we couldn't figure out why. Shit we both got names, we could have sold some records. But now it's time! God works in mysterious ways and now it's time. We've already been in the lab, we got slaps and every time we come with a song, it just so happens to be one of them bangers. So we might as well keep doing it and not fix something that ain't broke! Dubcnn: What can we expect from "The History Channel" sound-wise, is it going to have a throwback sound? E-40: Expect some vintage shit and expect some new shit, like a happy medium between old school with a new school twist. Basslines, good sound of music that's tantalizing to the ear, shit that's gonna have muthafuckas like "I'm fuckin' with this I can't wait to bump this in my muthafuckin' cutless!" Dubcnn: Any estimated release date? E-40: We're trying to have it out by late summer.
Unfortunately the release date never stuck but within the past few weeks rumours were that "The History Channel " was set to see the light of day before the end of 2012. In an interview with VladTV E-40 confirmed that and indicated the release would now be two albums;
"The album is called E-40 & Too $hort: The History Channel. We're doing two albums. It's two albums we're dropping on the same day," E-40 revealed. "$hort was before me so we both seen all the genres, different eras of music. So we got fans that loved the old school music and we got fans that love the new school music. So it's called E-40 & Too Short: The History Channel. Function music which is for the newer era. So that's a whole album full of nothing but function music. And then we got mob music and that's just old school. The old school feel. We tryna make our fans feel like they used to on the mob music one."
Since this became apparent the covers of both albums have been released online, you can check them below! Stay locked to Dubcnn as we bring you more news and media from  "The History Channel ," which is expected to drop November 6th 2012.