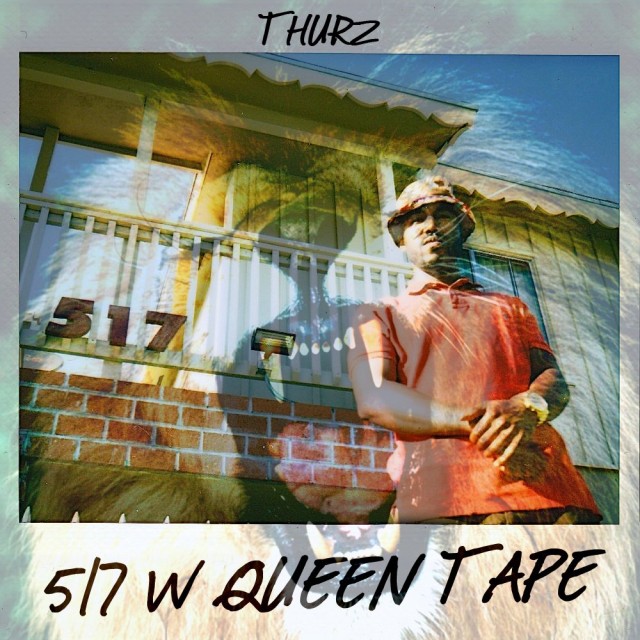 L.A. MC Thurz of U-N-I dropped the acclaimed A Love Supreme album for free on Dubcnn in 2009 and in 2011 as a solo artist Thurz built his buzz for L.A. Riot with music including Rodney King and Los Angeles and videos such as Rodney King Evolution and Molotov Cocktail.
Last week Thurz was back on Dubcnn having dropped another video from L.A. Riot for the Strong Arm Steady featured "Colors" produced by RoBlvd and directed by MISTER WHITMORE.
Today he is back and focused on new material with the release of his "517 W Queens Tape"  which is a warm up mixtape before he releases his planned "Blood On The Canvas" album later in the year. Over recent weeks he's been leaking samples from the release and the now complete 16 track project includes some real gems! Features include BJ The Chicago Kid, Killer Mike, Rich Kidd and Tuki Carter.
[raw]
[/raw]
Tracklist
01) Another Number (Feat. BJ the Chicago Kid)
02) Epic Win
03) Great Going Good
04) Trippin' N Trickin' (w. Tuki Carter) (Snippet)
05) Lust for Life
06) Keep the Faith (Feat. Rocki Evans and Rich Kidd)
07) Sanfransisco (Feat. Dreamer)
08) Are You Not (Feat. Johnny Polygon)
09) F.N.C
10) BIGTINGSAGWAAN
11) L.N.S
12) HellRaiser
13) Bitches and Drugs (Feat. Killer Mike and Aleon Craft)
14) Nosey People
15) Who Stole My Swim Trunks
16) Blood on the Canvas
Enjoy the mixtape and ensure you support Thurz and cop L.A. Riot today and stay locked for "Blood On The Canvas"