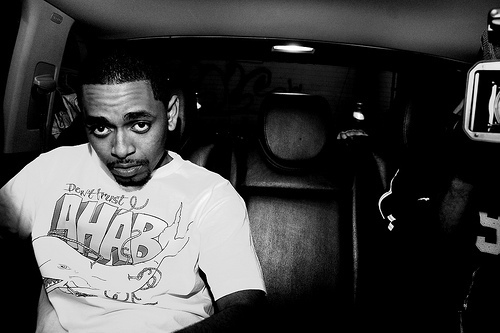 What's that you say about the West Coast? If you haven't been paying attention then you have missed the renaissance that is taking place in the Golden State.
Dubcnn.com recently sat down with Caliup-and-comer Skeme as he readies his project, "Alive and Living".
Skeme talks about approach to writing songs, connecting with fans and whether he would prefer rocking a sold out crowd or recording classics in the studio. Show some love for the emcee that pours his experience into every line. Take a few minutes to get to know Skeme.
…………………………………………………………………………………
Interview was done in August 2012.
Questions Asked By: Javon Adams
Listen To The Interview Audio Below or 

1. Download Here
…………………………………………………………………………………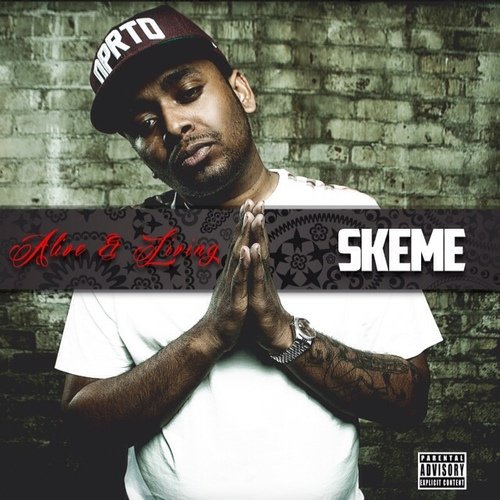 …………………………………………………………………………………
Interview Audio
[raw]

[/raw]
Dubcnn: Dubcnn.com…I have the pleasure of linking up and chopping it up with an artist by the name of Skeme. That's S-K-E-M-E for those of you that don't know. What's going on man? How are you doing?
Skeme: Man, I can't complain at all. We're living life right now. Surviving living and everything that we have going. So we're alright.
Dubcnn: Ok. I hear you. I want to get your response to this in terms of what comes to mind…or what people say about your style when they hear your songs. But the first thing…when I listen to your music (that comes to mind) is confidence when I hear your songs. What is the reaction or the first takeaway that you want people to get when they listen to a Skeme song? Obviously talent, but I'm saying confidence is what I get…that you are very confident with who you are. Talk about that a little bit.
Skeme: If I could come up with two words other than confidence it would be raw and the other would be sincerity. We really mean what we say on those records. That's really where I'm at every time we step in the booth and that's what I'm trying to give people.
Dubcnn: I hear you. Speaking of that…I was listening to a song and one of the lines kind of jumped out at me. You said something like, and I'm paraphrasing but, "I'm just doin' me, but they think that I be doin' songs". So when you're writing songs and you are re-living the things that you have been through do you ever worry about…as you start to grow as an artist and mature and do different things that the fans that you start to acquire will be a little bit hesitant or resistant to you growing and doing different things? Does that concern you in this young part of your career?
Skeme: Um, not really because it's like I tell people…that 100% of what I do is real. So I'm a firm believer that if everything you do is 100% you then that is going to see you through. When you make a record that is really honest with who you are as a person I think that if the fans are getting it then the are going to be alright with wherever I'm going. Because I'm never going to go out of what they expect from me, know what I mean?
Dubcnn: Yeah. I hear you.
Skeme: Being a real honest artist and keeping it 100 every time is, like what keeps us in the game anyway. So I don't think I'm ever going to go too far from what they expect from me as an artist.
Dubcnn: Ok. Now…I do a little bit of recording myself so I am curious to get your response to this. Being in front of a sold out venue of 500 people or being in the booth vibing out to a hot track in the recording process. If you had to choose just one and prioritize which would you choose?
Skeme: Man, that's crazy man. I've been a showboat type of person ever since I was a kid so I definitely love the feeling of that 500 right in front of you rocking out to what you're doing. But I also love the process of making the work too so it is kinda hard to choose. But if I had to choose I would probably choose the booth and making new music to put out in the streets.
Dubcnn: Right. Now if you are in that booth and you are creating music what is that process like? This is what I mean…in terms of when you go in and you hear a song do you like the producer to be there when you hear a beat? Or do you have your hook concept and all this stuff or do you like to get input from the producer? How does that creative process work with you?
Skeme: Really, for me it's all about what's going on at the moment in my life as I said. I hate to say the same thing every time like a broken record but it's all sincere. So if I'm going through something at the moment then that's what I'm going to put down on the record. We haven't had too many quarrels with producers about what we throw on records so it has been cool. You know, nine times out of ten I just trust myself to be able to do what I'm supposed to do. Nine times out of ten when we are in that booth…as long as some lean is around and a couple of the homies you're good.
Dubcnn: *laughs* I hear you. So, I know the project that will be coming out soon is called, "Alive and Willing". Talk about that project and what your expectations are for that project whether it's numbers or just new opportunities that might open up. Talk about what your expectations are.
Skeme: As far as what I want for "Alive and Living" is just…I think for a long time I have been on the undercard of like, "Who's Hot on the West Coast". And I've been in the conversation with a lot of dudes that are hot like Kendrick Lamar, Dom Kennedy, Nipsey Hustle and YG and whoever that is from the coast that's been banging. I've always been in the conversation but I never really got my…planted my flag in the convo. So, I think with "Alive and Living" from track one to track 15 it's just all the way me. This is the best project that I have so far. I hope that the people respect it and kinda push us over into that conversation when they bring up one of those guys. Because that's what you do it for, the recognition. For people to really know that you are doing your thing.
Dubcnn: Now as you are doing that and trying to raise more awareness for yourself and all that…and this project will go a long way in doing so…what is like when you are out there grinding? I think oftentimes listeners think that 'I see this person in the video and the song is great'. But talk about that grind and maybe going to a venue when you are on the undercard and maybe there's not a big turnout but you still have to rock it there are 1,000 people in the crowd. Or trying to spread your word and going out of town and not knowing what to expect. Talk about that end of building your brand and pushing your career along.
Skeme: Definitely. I've been a hustler bro. I'm 22 years old and I've been hustling since I was about 13-14 years old. So we really don't do this for the money, we do it for the love. If somebody is out there…we've had shows that have sold out and been 900 people and you do a show about two weeks later do a show (same venue) with about 20 people. It's the same vibe…I don't care if there are only 5 people in the building. As long as those 5 people are rocking then I left a satisfied customer basically. But anybody that shows love to my music then I owe it to them to give them 100%. That's the hustle. Whether it's seeing a fan out and he tells me he's a big a*s fan…stop and take a picture and have a convo or whatever. There's been times when people catch me out shopping and tell me that they are a big fan of this project or whatever the new mixtape is or whatever we've been working on at the moment. I'll turn around and buy a ni**a a t-shirt or something. It's all love when people love you just as much as you love what you are doing.
Dubcnn: I like that.
Skeme: I think with the other side of it we are definitely grinding away at it man. I'm trying to make it happen. I think everything happens for a reason and its due time for us to go ahead and get our name out with this "Alive and Living" project. I think we are going to be alright this time around. I think they are going to love this as much as they loved the other stuff we put out. And a lot more.
Dubcnn: I know the website is Skemetheduke.com. Any last words for dubcnn.com? Let the folks know whatever else you want them to know about maybe where to stay in touch with you or whatever the case may be. The floor is yours.
Skeme: Definitely. Dubcnn.com shows much love so thank you first of all for having me and speaking to me and all of that. Best way to reach me is that Twitter thang. I'm on there all the time talkin' sh*t as I do. Definitely man, "Alive and Living" is on the way…its got Kendrick Lamar on there. (Its got) Dom Kennedy and Schoolboy Q is on there and a lot of people from back home…there's a lot of people from back home,Cali where we be reppin' with. So we are going to go ahead and do it up for y'all. Dubcnn much love.
Dubcnn: That's what's up.