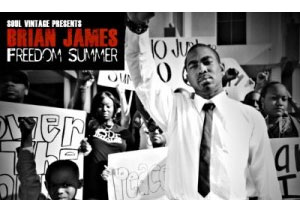 Brian James (FKA Wing) is the Compton native who last year dropped the long awaited follow up to his 2008 Eat Or Be Eaten and 2009 Eat Or Be Eaten Vol. 2 with his acclaimed Life On Mute project, released on Dubcnn in conjunction with Soul Vintage in December 2011.
He spent the months leading up to the project dropping media including Listen produced by Malcolm Harvest along with its music video, the DJ Ophax produced record Above It All, the single Tried featuring Art Barz and Lou Urias – and its music video – and finally If I Could featuring Ghost and produced by Chris Reed.
In March of this year he was back on Dubcnn being interviewed in Episode 43 (03/09/11) of Dubcnn Radio and weeks later dropped the ArtBarz directed Growing Pains music video followed by one for Good Heart with Quiz of Blu Division, Pawzone of IzrlRecords and Alesha Ashley.
We quickly followed that up with news that Brian James would return with a brand new album entitled "Freedom Summer" – a record inspired by the 1964 campaign of the same name that attempted to increase voter registration within the African American community in a time when African Americans were excluded – for release in August.
Get Up was the first leak from the LP and late last month we brought you the full 12 track release for STREAM free as well as for download via BandCamp or iTunes. The full LP can be streamed once again below but today we are brining you the just released video for the title track "Freedom Summer" that features J.Sing and Portia on the vocals and Chris Reed of Soul Vintage on production.
"Freedom Summer" showcases the very best of Brian James – an artist who constantly pushes and fights against struggle while inspiring others with thought-out lyrics over crisp instrumentals from Chris Reed and joined by Brooke Taylor, Chauncey Maynor, Wanta Kere, Alesha Ashley, Reyna Newby, Agallah the Don and others!
[raw]
[/raw]
"Freedom Summer" can be downloaded now for only $5 via BandCamp, or on iTunes. Listen free and then support it before hitting Brian James on Twitter before once again checking out last years Life On Mute project.