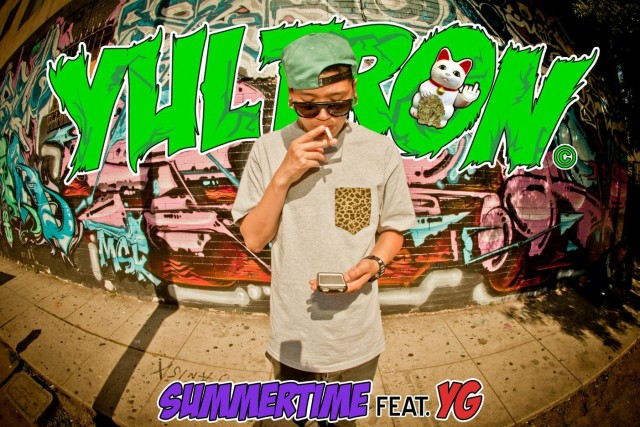 Hip Hop is just one of the many genres of music that is super saturated with artists both good and bad. Making music available is the easy part but the real work comes in setting yourself apart from the competition. Enter Yultron, a California native that has made his home in Vegas for the last couple of years. This emcee combines a variety of his influences into his music to create a unique sound that makes him stand out.
As he preps his Peace, Love and Fold Up mixtape he takes a few minutes to chop it up with Javon for Dubcnn.com. He shares his influences and defines his sound while explaining how he would up in Sin City. Yultron cuts through the clutter and you should get to know him. Enjoy.
…………………………………………………………………………………
Interview was done in September 2012.
Questions Asked By: Javon Adams
Listen To The Interview Audio Below or

1. Download Here
…………………………………………………………………………………


…………………………………………………………………………………
Interview Audio
[raw]
[/raw]
Dubcnn: Dubcnn.com. Javon here with a gentleman that I am sure that you are going to be hearing about for a long time. A gentleman by the name of Yultron. What's going on with you? How are you doing?
Yultron: I'm good brotha, how are you?
Dubcnn: I'm good. I was trying to study up and find out all things about you…and one of the things that is interesting to me…and I want to get your take on this is your sound. When I was reading a description of you it said that your music incorporates both exuberant Hip Hop and the melodic vocals of Alternative Rock. Talk about your sound and your influences and how that helps make you unique in this cluttered world of Hip Hop.
Yultron: Well, I sing all of my own hooks, or most of them unless I have a feature. I grew up listening to Alternative music including everything from Nirvana to Smashing Pumpkins, Weezer to even Modern Rock stuff like Kings of Leon. So I listen to all kinds of Rock music besides Hip Hop. Right now I'm mainly influenced by a lot of Rap music including Mac Miller and Wiz Khalifa. Being influenced by all these musicians just helps me create almost a blend of…and I'm sure I'm not the only one that likes a broad range of music so I feel like why not create something that hasn't been done.
Something from the Alternative world with that Alternative sound and the hooks with some real banging Hip Hop beats and some good Rap stuff, you know? I experimented with one of my first tracks, which is Summer Life. This is my first single, featuring YG and it was my first real take on that whole idea. So it's pretty much take the best of both worlds and just mash into something that no one has really ever heard, ya know?
Dubcnn: Right. You mentioned Summer Life, talk about the reception you are getting from that. Is it giving you even more confidence as you prepare for the project. I think it's called Peace, Love and Foldup that will be coming out soon. So talk about that and the reception you have been getting.
Yultron: At first I really didn't know what to expect. Like I said, you really haven't heard too much of this kind of sound. I know in the past that Asher Roth and even Mac Miller b ring that Alternative sound into their music but with Summer Life it is a little different. I'm taking real alternative hooks from classics and turning and flipping them into modern day Hip Hop tracks. Summer Life is an example and Peace, Love and Fold Up is my upcoming mixtape. Most of it is classic songs that I kind of intentionally re-did so people can be like, "Oh, I remember that Jam!" I made it into my own Hip Hop vibe.
The reception on Summer Life is great and I have gotten over 16,000 views on the music video and it has been less than a week. So I'm pretty stoked on that because it is my first look at a music video.
Dubcnn: I like that. So I know that you split your time between Southern California and between Vegas. Talk about balancing that. I know that Southern California or the L.A. area is where a lot of the moves have to be made but talk about how you are going back and forth and how you are having to balance building a career and building a foundation for yourself.
Yultron: Well, I'm born in East L.A. Born and Raised. I've lived there my whole life up until about 3-4 years ago. I moved out to Vegas because I really didn't know what I was doing with my life. I had a few friends that lived out here that made music. That's all I really wanted to do was to follow my dream and keep making music. I came out here (Vegas) and moved in with a friend and built a little following out here playing shows and cultivating my fan base for a few years. Opportunities came up where I would be able to go out to Los Angeles to work on some production with some friends. So I would go back to Cali and I really started feeling Cali again so ever since then I have been back and forth just trying to balance both cities and embrace them both as my home.
I really have a strong fan base in both…as well as friends and family so right now I'm just really trying to bridge that gap between the two cities. When people say West Coast or Northern California…well you are from Arizona so people don't really rep Arizona as West Coast or Vegas, you know what I mean. So I want to broaden the horizons a little bit and kind of put Vegas on the map because no one has really repped Vegas before.
Dubcnn: I hear you there. So you mentioned building a fan base so any last words for Dubcnn? Let people know how they can stay in touch on Social Media or whatever the case may be so you can continue to build your legions of fans.
Yultron: I have a twitter which is www.twitter.com/yultron and I have an Instagram where I post all of my photos and my adventures and it is the same thing, Yultron. You can find me on facebook with Yultron as well and on Soundcloud. Hit me up on those
Dubcnn: Thanks man, I appreciate the time.
Yultron: Thank you so much, Dubcnn.