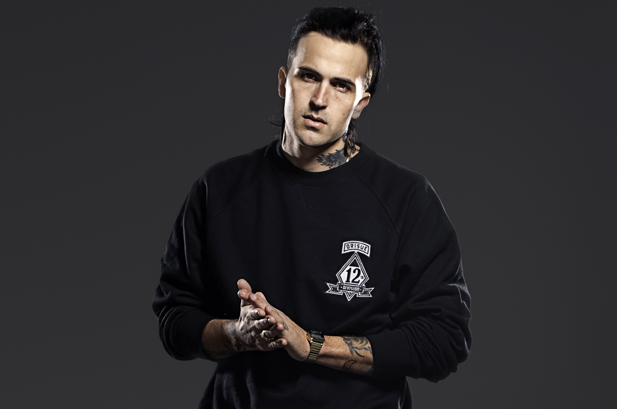 Let's be honest here Yelawolf doesn't need much of an introduction anymore because, the fact of the matter is, he's a major hip-hop star now and is a flat out undeniable force all across the board.
He is as exciting as they come, and if you ever get a chance to see him live you will realize that he is hands-down one of the best performers in the business.
Jonathan Hay sent his newly-crowned Vice President of Hoopla Worldwide, Michael Bentley, to interview the superstar, and Yelawolf granted Dubcnn this exclusive interview on his tour bus in Melbourne, Florida last night (September 18, 2012). This is the second exclusive Yelawolf interview for Dubcnn; read the first one here.
Stay tuned to Dubcnn as we have an exclusive Rittz interview on deck coming from this Yelawolf Slumerican Tour. Big shout out to Brooklyn, Yelawolf's tour manager for helping make this night happen! Yelawolf is headed out West in October, so check the tour dates here.
…………………………………………………………………………………
Interview was done in September 2012.
Questions Asked By: Michael Bentley and Jonathan Hay
…………………………………………………………………………………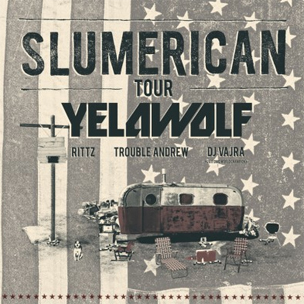 …………………………………………………………………………………
Dubcnn: Can you take us back to the BET Cypher because that was incredible…
Yelawolf: Thanks man, well it was my first time with the Shady Crew, Slaughterhouse and Marshall together. It was the first time I heard any of them spit live in front of me, any of them, Marshal, Royce, Budden, Crooked, and Ortiz. It was intimidating man, like for real. I believe my nervesnous came across in my verse, as I was the underdog, the wild card. They have a mutual respect for us. It was dope and I think like more people saw that than anything.

Dubcnn: So tell us about the Travis Barker project and what he was like in the studio?
Yelawolf: We did Psycho White over a year maybe, we didn't start it as a project, we were just doing songs, and we did like 5 records. So when we put the music together, we were like, damn, this sounds like a real project. My boy Newport actually came up with the name, Psycho White — it was supposed to be with Marshall [Mathers] and Travis. It was perfect though, because Travis and I cause ruckus. We had fucking fun in the studio. After Radio Active, I was hungry for some freedom. I had a lot of outside source hands on Radio Active, but on this, we let loose creatively. The project says it all. Psycho White is my first chance to put out some of my shit, and just go nuts. Hopefully I will be touring with Blink 182 soon, which would be the shit.

Dubcnn: That would be the shit. So what is your relationship like with Eminem?
Yelawolf: Me and Em are homies; we are looking forward to getting in the studio, maybe in 2013. I am doing Trunk Musik Returns, and I am 8 songs deep right now, but the way it's sounding or the way it could turn out, it could be Love Story. I'm not sure yet. It depends on where we go when we get back in the studio. I might turn Trunk Musik Returns into Marshall and he might turn it into the album and turn it into Love Story. The records are just turning out good.

Dubcnn: Being that Dubcnn is a West Coast Publication, do you have a favorite West Coast MC?
Yelawolf: Yeah man, Opio of Souls of Mischief. Of course E40, DJ Quik, Ice Cube, and I really love Kendrick and Odd Future. I like Odd Future's whole thing, the crew, their style; I respect what they do, as young MCs and skateboarders. Shit of course, Snoop, I am just a huge fan of west coast period, MC Eiht. The west coast and the south mirror each other a lot. You know the UGKs have the soul.

Dubcnn: Do you have a relationship with Dr. Dre?
Yelawolf: No I don't have a relationship with Dr. Dre, but I have met him, and he was super cool, he said he was a fan of my music. I am sure that before Marshal went forth with my album, he played it for Dre. I am a huge fan of Dre, he is a legend man. I don't know if working with him is likely, but I would like to think that in the future we will get in the lab.

Dubcnn: So what is next for Yelawolf?
Yelawolf: Well we got Psycho White up next; following that will be Trunk Musik Returns. Then when we get out to Cali, Santa Anna, I will be touring with Travis, so he will be coming out doing the shows. The West Coast is my favorite spot to perform, so I really can't wait to get out to the West Coast and perform, it is like a personal connection.