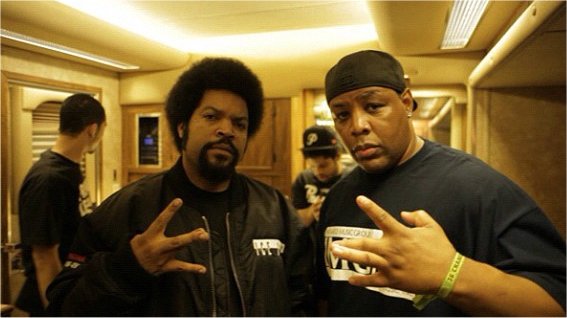 Last year we announced that E-A Ski was working an an album entitled, 5th of Skithoven, and during 2011 dropped off some samples of what to expect on the release.
The album – which is expected to feature Ice Cube, Techn9ne, B-Real, Freeway, B-Legit and others – was scheduled to drop last year and we brought you footage of the bay area beatsmith making a beat from scratch [see 5th of Skithoven Studio Footage] as well as an in-studio clip of Ski working on another concept for 5th of Skithoven.
Not only that but we dropped off a track with his partner in rhyme, Locksmith called On the Low and then in May the video to the debut single from "Fifth Of Skithoven" featuring Ice Cube, called Please, directed by Rock Jacobs.
In April we brought you Off The Radar featuring King T and Young Maylay and in recent weeks you've seen footage of EA-Ski Behind The Scenes At Rock The Bells 2012 as well as him winning "Producer of the Decade" Award.
Today he has released a video for his single from "5th of Skithoven" for the record "Cruise Control" – featuring IMGMI signee B.O.X on the hook – with Hollywood legend Danny Glover, marking his first appearance in a rap video, alongside Ice Cube!
Famed award-winning actor Danny Glover, known best for his role as Det. Murtaugh in the Lethal Weapon movies alongside Mel Gibson, teams up with Ice Cube and E-A Ski under the director-ship of Rock Jacobs.
The visual follow up to the last Cube/Ski video "Please" – sees the Bay Area veteran cruising the streets of the west side – check it below!
If you missed Off The Radar with King T and Young Maylay earlier this year then listen/download below.
[raw]
[/raw]