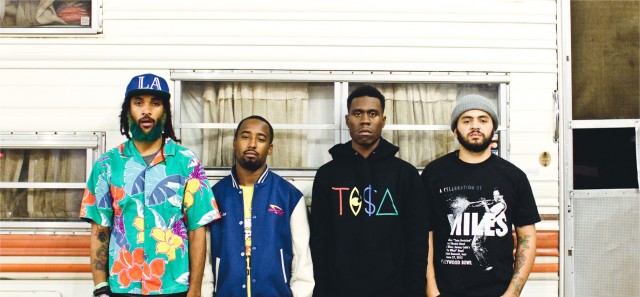 Dubcnn regulars will be all too familiar with the Inglewood collective OverDoz who stepped onto the scene with us in 2010.
From their appearance on the Terrace Martin & Devi Dev Presented "Here, My Dear" release and the track Roll Up (ft. Wiz Khalifa) – to their Luv 2 Luv Ya record with Skeme it was clear the quartet were destined to make a noise with their "Live For, Die For" project.
In late 2010 they dropped Wanna Know Your Name with Casey Veggies giving a glimpse of what was to come. In early 2011 we were treated to the track "Dested" just days before the released the full, free download, of Live For, Die For. The release contained 16 fresh records with featues from Skeme, Kendrick Lamar, Dom Kennedy, C-San, Casey Veggies and more.
Today we can bring you a new track from the underground sensations that is building the buzz for their planned 2013 – as-yet-untitled – album. "Dear God" – which is laced by The Futuristiks is a banger and can be checked below.
OverDoz – Dear God (Audio)
[raw]
[/raw]
Stay locked to dubcnn.com for the latest news on the upcoming OverDoz album.