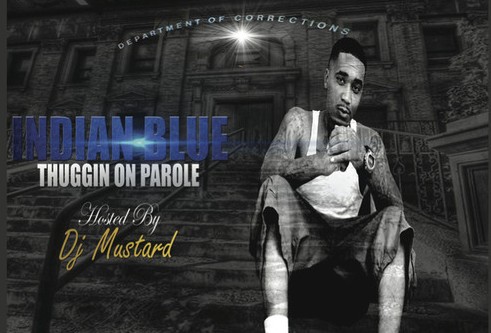 Long Beach, CA has been a hotbed for Hip-Hop for over two decades now, since Snoop Doggy Dogg put the LBC on the musical map in 1992. Twenty years later, Snoop Dogg is not only a musical icon and mogul, but he's also actively putting on artists from his community.
One of these artists is Bryson Blue, better known as Indian Blue, a rising young rapper from the LBC, where he grew up all his life. He started early on, forming a rap group with his brothers called B4Real at 8 years old – but eventually the California streets caught up with young Blue, forcing him to spend some time in the penitentiary as a teenager.

After his release, Indian Blue was introduced to Big Fave, CEO of Faverite Ent, a label that is distributed by Snoop Dogg's Gangsta Gangsta Online Distribution (GGOD), and made music his main focus. "Being from Long Beach, I've been making music all my life, looking up to Snoop Dogg, Warren G and Nate Dogg.", Blue explains his influences.
Indian Blue has now released his first official mixtape, "Thuggin' On Parole", featuring guest appearances from Tray Deee (Tha Eastsidaz), Kokane, Soopafly and Butch Cassidy among others. The mixtape was hosted by DJ Mustard, the man behind some of 2012's biggest hits, such as Tyga's "Rack City" and 2 Chainz' "I'm Different".

"This is a well put together project, I was very passionate about it and put my heart into this mixtape. Shout out to Snoop Dogg and Warren G for their support. My album is coming next", says Indian Blue about the mixtape.
The "Thuggin On Parole" mixtape is now available for free download below:
Indian Blue – Thuggin' On Parole (Hosted by DJ Mustard) (Mixtape)


[raw]
[/raw]
Three videos have been released off the mixtape so far, including the Butch Cassidy-assisted "Testimony Song":
For more information, hit up Indian Blue on: Twitter | Instagram