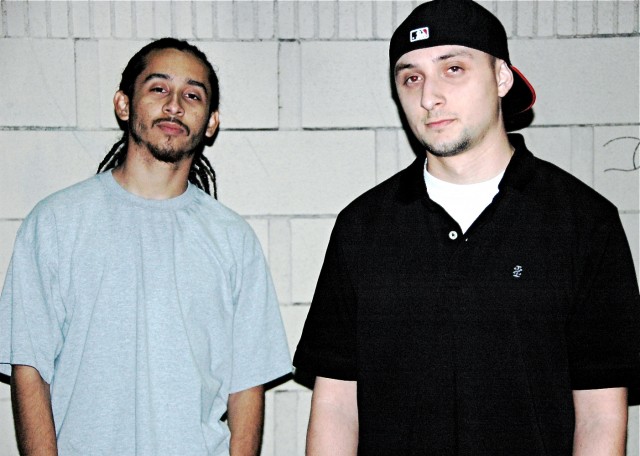 Today we are taking the time to introduce you to two up and coming artists that have formed a duo under the Orange County area code; 714.
The idea of a 714 was pitched by 21 year old Anaheim representer Loki Loko to his fellow artist Cha$e from Santa Ana of the Realest Movement.
The recording process began the summer of 2012 and the 12 track LP was finished by Christmas. The album dropped on New Years day and it immediately began to create a buzz in the O.C. Area and has resulted in the duo planning a promotional tour across L.A. Loki Loko told dubcnn;
"We collaborated on a mixtape and a couple other songs before so I thought it would be a good idea to drop something for OC. Plus I've known Cha$e for a very long time and I think our chemistry meshes well."
We heard the album this week – which features production from J. Classic, Chill, Vibie, SuperStar O, TrackSlammerz, Jake and Zay – and wanted to share it with you, stream and download the 12 track release below!
Loki Loko & Cha$e – 714


[raw]

[/raw]

Loki Loko & Cha$e – 714  (Tracklist)
01) Bad Guy (Produced by Chill)
02) No Leaks (Produced by J.Classic)
03) On My Life (Produced by Vibie)
04) Kill It (Produced by Chill)
05) Stronger RMX (Produced by SuperStar O)
06) Party Life (Produced by Chill)
07) Break You Off (Produced by TrackSlammerz)
08) Red Eye Flight (Produced by J.Classic)
09) Zonin (Produced by Jake)
10) Cocaine (Produced by Chill)
11) My Time (Produced by Chill)
12) Shine (Produced by Zay)
Drop your comments on  "714" below and stay tuned for more on this duo right here on Dubcnn.com.
More About Loki Loko
Loki Loko is a 21 year old Rap artist who was born and raised in Anaheim, CA. He was raised in a single parent home by his Salvadorian mother who moved to California in search of a better life. Since the start of his schooling years, Loki was known to get in trouble frequently, yet maintained his grades at honor roll level. Writing was Loki's favorite class in elementary and he soon began participating in school poetry competitions that helped him develop stage presence. By his junior year in High School, Loki decided that school was not for him and immediately dropped out. He received his GED and enrolled himself in Full Sail University, where he graduated as an Audio Engineer in 2010. He has been working with sound professionally since 2008 and continues to learn more about sound and music production. In 2012, Loki Loko released a mixtape entitled "Realest Movement Vol. 1" which included various artist under the Realest Movement umbrella. After a short promotion run with the mixtape, he release "714" with Realest Movement artist Chase Heinze on Jan 1st, 2013.
More About Cha$e 
Chase is a rapper/singer who is inspired to make music by the world around him. He was born and raised in Santa Ana, California where he was predominately raised by his single mother throughout his childhood until the age of 21 when he was kicked out of his home for differing reasons. Chase's drive to become the next inspirational artist is fueled by the adversity he faced growing up as well as by the present day challenges and struggles he copes with on a daily basis. His three major influences include legendary recording artist and world wide phenomenon Tupac Amaru Shakur, Ne-Yo, and Drake. All three artists have impacted Chase's passion and pursuit for music in their own significant way. School wasn't always his primary option for a career choice due to the lack of interest in the school system and his overwhelming desire to share his music with the world he resides in. Chase can be known as one of the more optimistic souls roaming the streets today as stated by fellow friends and family. He believes in hard work and striving for what you want in life. He is currently working on promotion for his collaboration album "714" with Loki Loko, a childhood friend and mentor with plans to break into the music scene and take the world by storm with his dedicated passion and will to continue to learn and perfect his craft. He has also released other solo projects in the past, most notably "The Journey".