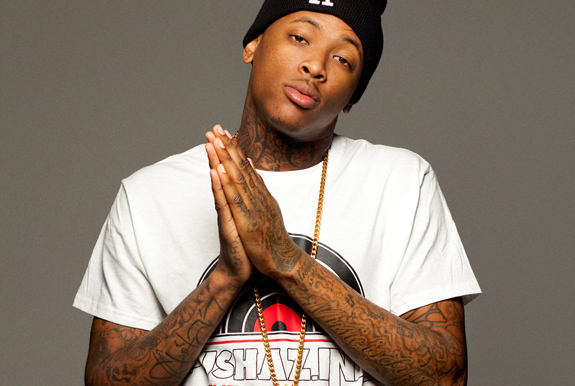 YG – who has already dropped his first mixtape of 2013 last week – today announced the title of his upcoming Def Jam debut album.
In 2011 he dropped "Jus Re'd Up" before releasing 4HunnidDegreez last year with renowned producer DJ Mustard.
Last week he dropped the video to his single, You Broke featuring Nipsey Hussle before we brought you the full 28 track free download and stream of Just Re'd Up 2 hosted by DJ ill Will & DJ Mustard.
Today – in an interview with AHH– Def Jam signee YG announced the title of his long-awaited debut album as "Welcome to Bompton."
YG also told AHH that Young Jeezy will be executive producing the effort, after the two developed a chemistry in the studio working on the Cardo produced song "We Playin" featuring Wiz Khalifa and Jeezy himself.
"I'm gonna be on some YG, turnt up street sh*t. I'm gonna do the 'Welcome to Bompton' theme, that'd be dope. I'm turning the C to a B, so n*ggas gonna be talking, like oooooooh.. that sh*t gonna be hard, yea that's gonna be hard. And its my first album, it's like an introduction at the same time, its my first album, like my introduction to the whole world." YG told AHH.
The 24-year-old rapper also explained to that he believes it's time for his debut album, especially given the support from the streets and the clubs thanks to songs made by his in-house producer DJ Mustard;
"It feels good for the sound to be expanding how it's expanded. Shout out to 2 Chainz and Tyga for having those big records, and Jeezy for the "R.I.P." record. That has helped the sound, like 2 Chainz and Jeezy they the south, and Tyga got the Young Money look, they put the bread behind sh*t to make it crack. Drake helped out with 'The Motto,' so that's good man, its less work I gotta do, and it's gonna make my sh*t crack off faster. It's time for the real. Its time to bring it back to were the sh*t really came from," explained YG
Drop your comments on the forthcoming LP below and if you missed Jus Re'd Up 1 or Just Re'd Up 2 or the 4HunnidDegreez download them today free on Dubcnn.com.