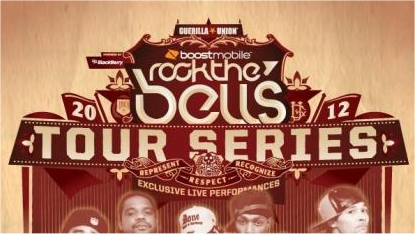 Last week Murs 3:16 in association with Guerilla Union announced the full Paid Dues Festival 2013 line-up.
While the news of the eighth instalment of the now iconic Paid Dues Festival was being released the guys at Guerilla Union we're also plotting an extension to the 2012 Rock The Bells series.
Today Guerilla Union, Live Nation, and DIN have announced another element to the 2012-2013 Rock the Bells Tour Series with Bone Thugs-N-Harmony: the TEXAS TAKEOVER TOUR.
The tour is scheduled to hit venues all over the Lone Star State from March 5th at Backstage Live in San Antonio and will include stops in Austin, Houston, Tyler, Dallas, Pharr, and Corpus Christi.
The Rock the Bells Tour Series was created in hopes of bringing the Rock the Bells experience to fans unable to attend on of the three major festival stops in San Bernardino, CA, Mountain View, CA, or Holmdel, New Jersey last summer. The tour series has already made national and international appearances in California, Washington, and Guam. It has also aligned with Point Panic Festival for three dates in Hawaii, featuring Groundation and Ghosst Ridaazz in addition to Bone Thugs-N-Harmony.
"Bone Thugs is happy to be working with Live Nation to make the Texas Takeover Tour possible.  We're equally excited to continue our partnership with Guerilla Union on this venture," says group member Bizzy Bone. "This tour will allow us to re-introduce our music to some of our biggest fans in the South, especially the ones who weren't able to catch us during our 20 year anniversary on the Rock the Bells Festival Series last year."
Tickets for the TEXAS TAKEOVER TOUR are now available, full tour dates can be seen below! 

TEXAS TAKEOVER TOUR DATES & VENUES:
03/05 – Backstage Live, San Antonio, TX
03/06 – Emo's, Austin, TX
03/07 – House of Blues, Houston, TX
03/08 – Clique's, Tyler, TX
03/09 – House of Blues, Dallas, TX
03/10 – Pharr Event Center, Pharr, TX
03/11 – Brewster's, Corpus Christi, TX