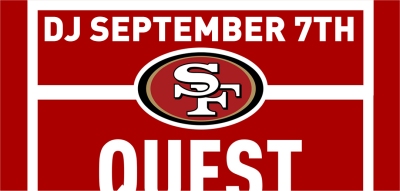 As a long time San Francisco 49ers fan, "Cali Untouchables" DJ September 7th has been waiting for Superbowl Sunday for some time!
We are now just hours away from Super Bowl XLVII and so DJ September 7th has released a brand new mixtape entitled "#QuestForSix" which is hosted by Sly of "The Sly Show."
The "#QuestForSix" mixtape has almost every 49ers anthem song available, with features from E-40, Ashkon, Future, Bailey, Joey Ax, Roch Gigz, Macklemore & Ryan Lewis, Clyde Carson, Omino Jakku, Bobbi Bon Jovi & more!
The "#QuestForSix" mixtape also contains a world premiere by Ashkon, title "Red And Gold Everything", which is sure to set the internet on fire this weekend with the 49er fans!
This 31 track epic will be a perfect musical accompaniment to Superbowl Sunday as well as the weeks that follow – download or stream it free below!
DJ September 7th – #QuestForSix (Mixtape)


[raw]
[/raw]

DJ September 7th – #QuestForSix (Tracklist)
01) #QuestForSix Intro
02) Ashkon – Red And Gold Everything
03) Heat – Die Hard (#NinerEmpire)(@DJSeptember7th RMX)
04) Bobbi Bon Jovi ft. Niko Reese – #QuestForSix
05) Theolodge – #49ers Anthem
06) Family Bidness – #NinerGang
07) Future – Tony Montana
08) Omino Jakku – Right Now
09) Macklemore & Ryan Lewis ft. Ryan Dalton – Can't Hold Us
10) Joey Ax – Colin Kaepernick
11) Sly Show Interlude 1
12) LoveRance – Clique (#Niners RMX)
13) Roach Gigz ft. San Francisco – 9ers
14) Sly Show Interlude 2
15) G.L.W.K. – Nobody
16) Problem ft. Skeme – T.O.
17) Trinidad James ft. T.I., Jeezy & 2Chainz – All Gold Everything RMX
18) D-How – Solid Gold
19) Bailey – Who's Got It Better
20) Sly Show Interlude 3
21) E-40 ft. Big Sean, Turf Talk & Mistah Fab – In This Thang Breh RMX
22) San Quinn ft. Big Rich & Boo Banga – S.F. Anthem
23) Ashkon – #Niners In Paris
24) Clyde Carson – Slow Down
25) Makaveli – Bomb First
26) Fully Loaded – SFC
27) KG – Rack City (#49ers)
28) Faithfully ft. Equipto, Baldhead Rick, Shag Nasty, Curt Sak, Ike Plump & Sellassie – #49ers Anthem (#ForeverFaithful)
29) (DIGITALBONUS) Mike V & Meezmo – Game Over
30) (DIGITAL BONUS) Bigz Fresno – Real Men Wear Gold
31) (DIGITAL BONUS) 2Chainz – Riot
| | |
| --- | --- |
| | |
If you missed DJ September 7th's last mixtape on Dubcnn check DJ September 7th Presents: Slaughterhouse – House Arrest for free today – and get ALL his tapes via our Digital Distribution Page!