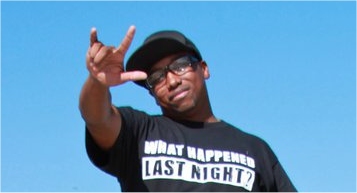 An email dropped in to us today with a name that had long been missing from the pages of Dubcnn over recent years.
Bangloose was a key figure in the so-called NewWest of the mid-to-late-2000s and was an ever-present dropping relentless singles and mixtapes.
Some of those including the mixtape Sonically Correct as well as singles including 

1. Last Call

 with Krys Ivory produced by Big Saccs & Dem Jointz, 

2. Grey Goose 2.0

 featuring G. Malone, Roscoe Umali, & Mistah F.A.B, Like Dat, Smell Like, Hottest In The Hood, 60 Seconds Western Conference All-Stars Freestyle, 

3. Streetz

 with Dem Jointz & Chevy Jones,
Today – over 2 years since his last dubcnn update – after what he is calling "a brief break from releasing music", Bangloose is back to work and preparing to hit the clubs and radio with more of his signature party-capturing style.
Best known for his radio success with his crossover hits

4. Grey Goose

, Rated R and

5. Last Call

, he recently signed with HTR Music Group and is working on new material to hit both clubs and radio with.
His history as an artist with a proven record of performing clubs and being able to capture the right mix of the radio and urban party market gives him a decided advantage and confidence every time he's recording.
First up we have an urban club anthem "Keep It Going" which features King PR & Noni Spitz over a Krook production as well as street record called "Action" – listen below.
Bangloose – Keep It Going (Feat. King PR & Noni Spitz) (Produced by Krock) (Audio)
[raw]
[/raw]
Bangloose – Action (Produced by King PR) (Audio)
[raw]
[/raw]
Follow Bangloose on Twitter & Instagram.