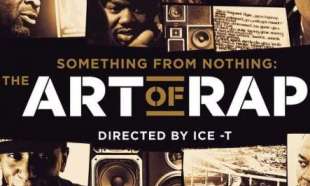 The craft. The history. The power. All these elements of the hip-hop movement are discussed with director Ice-T and the legends he interviews-Afrika Bambaataa, Eminem, Nas, Mos Def, Kanye West, Chuck D, KRS-One, Snoop Dogg, Run-DMC and Ice Cube-in this compelling and gritty feature-length documentary.
For those that have yet to see the documentary we have a review below to give you an idea of what to expect.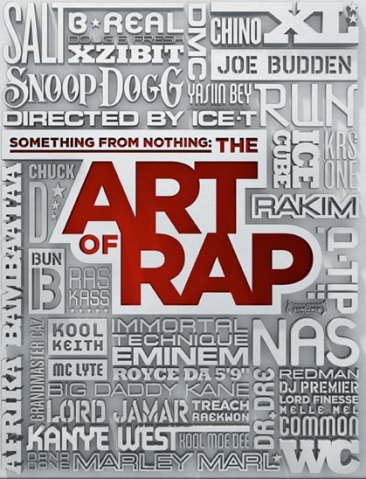 Something from Nothing: The Art of Rap (Trailer)
   
Rating: 4/5
…………………………………………………………………………………
With modern day fans rapidly becoming disillusioned with the new era of rap music, a division has been formed. The battle of the traditional hiphop purists and the mainstream fans of today continues on every internet forum, street corner, barber shop and shows no sign of either side backing down. Whichever tribe you pledge allegiance to one thing is for sure, Ice-T is a pioneer and originator in this field and commands respect.
In The Art of Rap, Ice-T doesn't take sides. He is not interested in record sales, chart positions or jewelry. He sets out on his journey with his first stop in New York to study the technical aspect of writing a rhyme. While rap music is often attacked for its content, I have always felt it should be celebrated for the infinite writing styles and techniques adopted by creative mc's. At times complex, brash and in your face, rap music holds no punches.
Its not only the writing method but also the delivery and performance aspect which come under the microscope in an attempt to figure out what exactly makes the best artists go great. We are treated to a variety of quick candid interviews, often accompanied with an acappela verse. After leaving NY, the trip then takes quick a stop in Detroit where Eminem & Royce Da 5'9 sit down to discuss their approach to songwriting. Eminem reveals his mind is constantly thinking about words and how to structure them 24/7. This is the first time it set in for me. There is no off switch.
Finally, Ice-T and the film crew head west where the likes of Ras Kass, Xzibit, Dr. Dre, B-Real, Ice Cube & Snoop Dogg add from their perspective. If I were to choose my favorite piece, it would be the conversation with WC. This doesn't have the feel of a Hollywood production. Its two friends trading stories back an forth which makes for mesmerizing viewing. As far as the impromptu performances go, my pick of the bunch goes to Snoop Dogg. While there were many amazing acapella renditions to choose from, I couldn't help but appreciate Snoop's improvised performance as appose to the pre written and well rehearsed verses other artists provided.
The presence of Ice-T has a calming and relaxing effect on those being interviewed. One cant help but feel we would not get such intimate and personal insight with just a regular reporter conducting the research. The admiration in most cases is obviously a mutual feeling leading to honest rapport that is easy to watch. A project such as this, interviewing dozens of performers about one particular topic runs the risk of becoming repetitive, but fortunately, they were able to avoid such an occurrence as we were not fed mundane responses associated with average Q&A's. Instead, they opened up their lyric books and in some cases their homes to welcome us into the mind of the MC.
As well as appearing on screen, behind the camera in the director's seat, Ice-T also provides the narration between interviews helping pieces flow and in some cases intertwine naturally. He is the centerpiece and the end result more than validates his level of involvement. His successful career in rap as well as being a fan of the genre gives him the ability to relate more than your average host. Add to that the terrific aerial shots which provide visually stunning scenery and you've got a fantastic product.
The only criticism I have is the number of artists featured perhaps could have been trimmed down, allowing those chosen more time on screen to get even more in-depth. Having said that, Something from Nothing: The Art of Rap is unlike any other music related documentary and a must watch for all music lovers.
…………………………………………………………………………………
The views expressed here are those of the authors and not necessarily those of Dubcnn as an organisation.
…………………………………………………………………………………