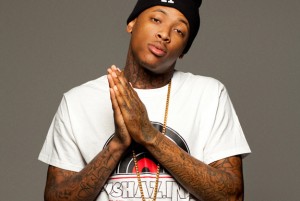 YG – who has already dropped his first mixtape of 2013 just two weeks ago – today announced plans to release a joint mixtape with Nipsey Hu$$le.
In 2011 he dropped "Jus Re'd Up" before releasing 4HunnidDegreez last year with renowned producer DJ Mustard.
Then he dropped the video to his single, You Broke featuring Nipsey Hussle before we brought you the full 28 track free download and stream of Just Re'd Up 2 hosted by DJ ill Will & DJ Mustard.
Check out YG chopping it up with the LA Leakers speaking on his relationship with DJ Mustard as well as plans to release "2 of Americas Most Wanted" mixtape with Nipsey with plans for a tour also.