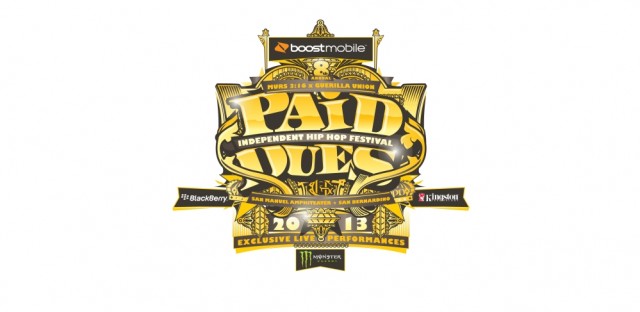 Today the Paid Dues 2013 Independent Hip-Hop Festival promoters (Murs 3:16 and Guerilla Union) have announced a venue change for the April event.
The 8th annual festival will be making the move from its original location at NOS Event Center to San Manuel Amphitheater, due a shortage of parking spots available at the former venue.
Guerilla Union founder and CEO Chang Weisberg explains:
"The main parking lot at NOS Events Center was sold a few years ago but we had always activated our events with its available use in mind. NOS ended up closing escrow on the lot much sooner than anticipated, and the new owners are looking to begin building their distribution center around same time as this year's Paid Dues Festival. Dan Jimenez (General Manager at NOS Events Center) has been in meaningful conversations with the company's board of directors to find an amenable remedy however, we have reached a threshold where we must take action to ensure the fans' and artists' experiences are protected. That being said, we have decided to make the move up the road to San Manuel Amphitheater – it is the best solve for this situation. It is only 15 minutes north of NOS Events Center and is well-known for its ample grounds and available parking."
Dan Jimenez of the NOS Events Center added:
"It's unfortunate that we will not be able to host Paid Dues for the seventh year in a row. With our strongest efforts possible, we attempted to provide alternate contingency plans to compensate for the Arrowhead parking lot that as been sold. Unfortunately, due to time constraints we were unable to secure ample parking. We hope to develop a strategy that will welcome Paid Dues back to NOS Event Center in the future, but until then, we know they will have a successful event at our neighboring venue at San Manuel Amphitheater. We wish them the best of luck."
The San Manuel Amphitheater staff areworking hard to bring the appropriate changes to enhance the festival for all fans and artists, ensuring the experience they have come to expect in previous years at NOS Event Center. The venue will be General Admission on a "first come, first serve" basis and the Orchestra seats will be removed to accommodate the exclusive VIP pit. Plenty of parking will be available along with large grassy areas for fans to enjoy the music and weather. Guerilla Union is also working on bringing in outside food vendors for the event to elevate the VIP experience.
Festival co-founder and 2013 performer MURS adds, "We offer our sincerest apologies to any fans who may have been inconvenienced by the move but we honestly feel that it is what's best for the festival. And will help make this the best Paid Dues experience yet."
San Manuel Amphitheater will honor all previously purchased tickets at the door. Additionally, tickets are still available for purchase via Ticketfly. More information can be found at here. As a key media sponsor Dubcnn will be doing a ticket giveaway this week!