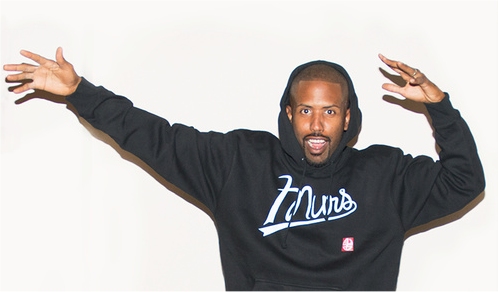 The 8th annual Paid Dues 2013 Independent Hip-Hop Festival gets underway in under 24 hours and today Murs dropped some insight with the homies at HHDX.
Earlier this month the promoters (Murs 3:16 and Guerilla Union) announced a venue change for the April event seeing the show move to the San Manuel Amphitheater.
In the HHDX interview Murs talks about how challenging managing a festival can be and details some of the pressures the responsibility of the artists and the fans can be;
Yeah, I started the Road to Paid Dues [tour] because I used to be able to handle everything from the road and then get there the day of and be cool. But now this may be the last Road to Paid Dues that I perform on, because I gotta be on this shit 24/7. With the venue change, with all the artists, politics and relations I gotta deal with to make shit run smoothly, I can't be out here anymore. We already outsold last year's pre-sale. Last year was our biggest year, and I think we had 18,000 people on-site. We're past that already. I can't manage three stages, 46 artists and probably what's gonna be 20,000 plus attendees properly [from the road]. Now my tour manager left from the tour a week ago. So, now I'm driving the van, settling with the venue, headlining a show and handling all of the Paid Dues logistics. We have Johnny Cupcakes collaboration this year. We have all this shit going on. I'm managing all of this everyday. I got a tour with 14 other dudes on it. I drive the van. I park the van. It's insanity.
Murs also gets deep discussing the first time he heard Kendrick Lamar as part of Black Hippy;
The first time I met them, Kendrick was supposed to perform at Paid Dues 5. It was some political B.S. that he wasn't able to. So I told Top [Dawg] and Jay Rock called me…I had become friends with him. K. Dot, DJ Quik, Kurupt and I and Jay hopped on a song for NBA Jam 2009. After that, K. Dot hit me up on MySpace or something. This was when he was still K. Dot. He was like, "Yo, check my shit out." I heard him and I was like, "Who raps like this from Compton? Who are you?" You know? I was like, "Bro, I have no idea what I could do for you, but if you ever need anything, advice or whatever, hit me."

He may have had like 200 followers on Twitter or 1,000. I don't know. But I told my A&R at Warner [Bros.] at the time—he always gives me credit to this day—I was like, "Yo! This kid is phenomenal. You need to sign him.

So Paid Dues came around, and I got a call from the camp. I was like, "Yo, I love this kid. Unfortunately, because of whatever's going on, I can't do it. We're already booked." But I was on tour at the time, so I was like, "I would love to have him come open for me, if he wants to do that." That's the night I met everybody. They were like, "Black Hippy." I was like, "What the fuck is this? What kind of name is this?" They explained the whole concept and I was like, "This is amazing!" Knowing ScHoolboy Q and his background, knowing Jay Rock and his background, seeing Ab-Soul for the first time and knowing Kendrick's music , I was like, "Yo, you guys are the future of this city. Don't ever let anybody tell you guys anything fuckin' different. You guys are amazing."
Murs goes on to addresses Paid Dues' Growth And Critics – which also speaking on the positives of running the event – plus celebrates the success of Macklemore and calling Black Hippy "the best rappers in the world" and shares early experiences with these emcees. He also opens up about admiration and respect he has for Tech N9ne while calling Strange Music "the most professional and family-like organization I've ever seen."
So don't waste any more time here; head to HHDX to check the full interview and ensure if you are at Paid Dues tomorrow you get involved with the #DubcnnAtPaidDues Twitter promo!
Congratulations to our ticket winner Jamie Gomez who won the Dubcnn Contest this week.
For those already going remember San Manuel Amphitheatre will honor all previously purchased tickets at the door. Additionally, tickets are still available for purchase via Ticketfly. More information can be found at here.