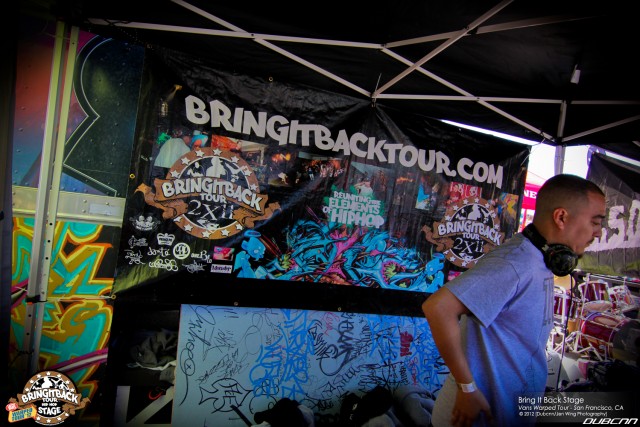 Last year we confirmed that The BringItBackTour Stage would return for the 2012 Vans Warped Tour.
After a successful run on 8 dates of 2011's Vans Warped Tour we announced the stage was set to return for all 41 cities in 2012, showcasing national and local Hip-Hop artists, live painters, B-Boy crews, DJ exhibitions, and more.
Jen Wing of Dubcnn went down to check out the Bring It Back Tour Stage hip-hop stage at the Vans Warped Tour in June 2012 during the tour's San Francisco stop. On June 23rd we had a chance to catch up with the tour's founder, Tyler Stark aka Fritzo, and leading member in Hip Hop Congress, Rahman Jaamal who talked about the message and experience they hope to bring the festival goers.
The duo also has plans to start up a new tour called Inspire in 2013. Inspire will visit communities to provide youth with resources, mentor-ships  and opportunities to grow as artists, as well as teaching young artists how to build businesses and profit off of a creative lifestyle.
Below we have Photos & Video highlights from that San Francisco day!
Vans Warped Tour: Bring It Back Tour 2012 San Francisco (Video)
Vans Warped Tour: Bring It Back Tour 2012 San Francisco (Photo Gallery)
The BringItBackTour Stage featured headliners The Chicarones and Ceschi Ramos, with select appearances from legends such as Kanetic Source (of Ozomatli), Aceyalone, Opio (of Hieroglyphics), and OneBeLo (of Binary Star) as well as highly respected artists such as Rah Digga, Double-0 (of Kidz In The Hall) with Yonas (of UNI), LuckyIam, Bleubird, Verble, Dox Black, Dante LaSalle, Parable, Prime Element, and more.
Thanks to Jen Wing for the footage/photos and the Vans Warped Tour and BringItBackTour Stage teams for the access! Ensure you check them out on Facebook and Twitter.
At the tour's San Francisco stop on June 23rd