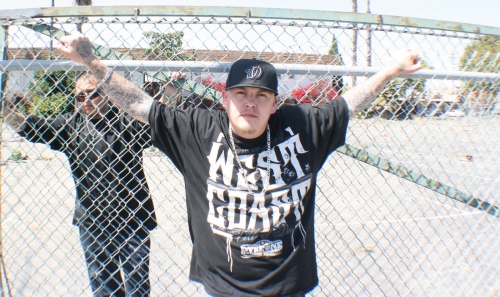 Oxnard, CA based record label Thug Fella Records had a busy 2011 and they were regulars on Dubcnn as a result.
Neoh (The Kaniving One) had his single This Iz West Coast featuring Bo-Roc of the Dove Shack – as well as the Roscoe featured Put That On Something and its Music Video.
Then later that year Neoh dropped his free 21 track mixtape called Da Shiznit as well as the first leak from his upcoming "Rap's, Tatt's & Slaps" featuring Mac Lucci of the Hustle Boyz called Road 2 Success as well as a Music Video.
It was late 2011 when we last had Thug Fella Records representer Neoh with his James Wade directed videos for Call It What You Want featuring Mac Lucci, Big Doty & T.C and with cameos from OG Suicide, Young Flow, Tiny Kurupt, Chase Los Angeles, Ric Hard plus Don't Got The Time featuring Xplicit & Big Doty.
Today we can confirm that Neoh is plotting a new album for release late this year called "Neoh Soul" that will feature a stellar guestlist including Kokane, Mac Lucci, Roscoe, Bad Azz, Snoopy Blue ,Young Giantz, Blood Shoot, Big 2 Da Boy, Big Doty, J Minixx, TC (G-Hood), Lyrik Pharoah, D. Dimes and more; over production from Dae One, Cartels Sons as well as his own instrumentals.
We can bring you the first two tracks leaked from "Neoh Soul" below, "Bosses Only" featuring Roscoe & Mac Lucci over a Cartels Sons production and the self-produced "Mula Musik (XO Mix)" with verses from Mac Lucci, Big Doty & ManSlaughter.
Neoh – Bosses Only (Feat. Roscoe & Mac Lucci) (Audio)
[raw]
[/raw]
Neoh – Mula Musik (XO Mix) (Feat. Mac Lucci, Big Doty & ManSlaughter) (Audio)
[raw]
[/raw]
In the coming weeks the Dae One produced "Around We Go" record featuring Kokane will be on iTunes, stay tuned for that! Until then enjoy the new music and ensure you follow Neoh on Twitter, Instagram and bookmark the ThugFellaRecords website.