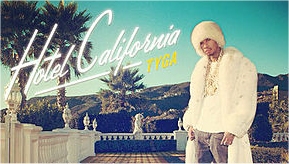 Cash Money's West Coast representer Tyga is now only days from releasing his new album Hotel California LP.
The album – which is set to drop on April 9th – is the follow up to last years "Careless World" release that sold over 250,000 units.
Already in 2013 he's dropped music videos for the Game featured Switch Lanes,  a video for the Rick Ross featured "Dope" as well as the single Molly with Wiz Khalifa and Mally Mal before he kicked off his "A Kings Life" web series.
Today – after much online buzz since it was rumoured – Tyga has leaked another record set to feature on the album called "Hit Em Up." Not only does the track lend the title of the classic inflamitor Tupac track but it also features and unheard Tupac vocal. The track – which is laced by DJ Mustard – also featured Jadakiss.
In a recent MTV news interview Tyga was keen to stress the track is not a remake despite the reaction to the significance of the title;
"A lot of people think it's a remake of 'Hit 'Em Up,' which is his song. It's not a remake; it's an original. You ain't dissin' nobody, but you lettin' it be known [that] you don't rock with certain people."
He also discussed what he makes of the record after deciding what to do with the Tupac vocals;
I got the vocals, and I just didn't know what to do with 'em. I was done with the song, and I had came across some [Tupac] vocals from a friend. I was like, 'Man, this would be dope.' But I didn't really know how to use it properly. When people hear it, they're gonna think it's real clever. They're gonna really respect it."
Tyga – Hit Em Up (Feat. 2 Pac & Jadakiss) Audio
[raw]
[/raw]
Form your own decision and listen to the record now – ensure you support  Hotel California when it drops on April 9th.