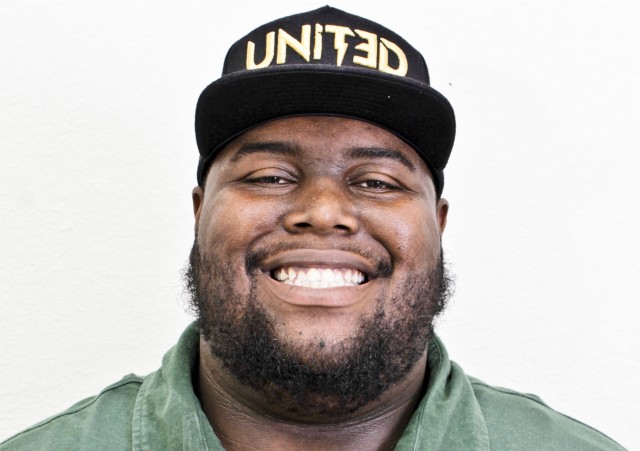 Inland Empire repping Noa James is a talented MC that's been buzzing out west for some time.
Currently signed to independent label, Black Cloud Music, he's been putting in work for over 10 years and in 2012 released his first official album "Beautiful Darkness."
It was that album that first caught our ear and we brought you the Curtiss King produced single "He's Coming" before it's music video.
He then featured on Hardwerk's single "You So Craaazy" alongside Curtiss King before returning on the solo tip in 2011 with the single Yokozuna from his follow up LP "Intelligent, Elegant, Elephant: Humble Power."
The buzz from that project earned him a slot at the 2011 Paid Dues Festival in San Bernardino, California from which we brought you footage showcasing him ciphering with the fans and talking to artists such as Chino XL and 9th Wonder. In the months that followed James was featured on the front cover of IE Weekly and made his XXL Magazine feature debut in The Break.
He was invited back in 2012 and earlier this month was on the Road to Paid Dues Tour with Murs & Fashawn before last weekend's festival.
While on tour last month he released an EP via iTunes called "Adventures of Young Orca" featuring appearances from Curtiss King, Art Barz, Edgar Sosa,Fredo, Jynxx, Andre Damar, Faimkills and Aliso Black.
Today we can bring you the single with Aliso Black – who himself last year dropped the singles "Bellicose" and "Six Shots" featuring $Keem Price and Dirty Birdy – called "What My Granny Say" below.
Noa James – What My Granny Say (Feat. Aliso Black) (Audio)
[raw]
[/raw]
Noa James is currently working on his upcoming album, Dionysus Lifestyle, set to be released sometime this year – until then follow him on Twitter.