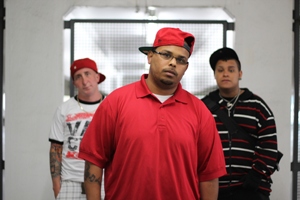 Last Month we brought you the release of Haze Ent's new record Westside Ridin with WC from Westside Connection from Haze Ent upcoming album I Only Touch Greatness Pt. 4, set to be released in June.
Before then Haze Ents artist Koncreto plans to drop the third release from his Fuck Them Pay Me mixtape series, which sees him tackle classic 90's beats. The Mixtape is hosted by Dj Trouble From Vancouvers #1 hit music station 104.9 FM.
This first record features 13 year old Dominican artist Derrick Ortiz, who after living in the Dominican Republic for the past few years returned back to Vancouver and recorded this song and video the very day of his return. The song also features Koncreto's younger brother Lil DG. Check out the video below, with more media from the project as it is released.
Koncreto – Let Me Clear My Throat (Feat. Derrick Ortiz & Lil DG)
Follow the guys on Twitter: Haze Ent | Koncreto | DJ Trouble | Derrick Ortiz | Lil DG & on SoSoHipHop