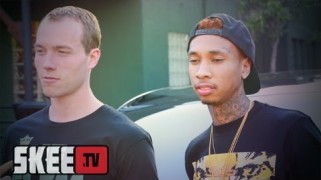 We've been following the release of Tyga's Hotel California album all the way with media including the Game featured Switch Lanes,  a video for the Rick Ross featured "Dope", Hit Em Up which features Jadakiss in addition to 2Pac vocals as well as the single Molly with Wiz Khalifa and Mally Mal as well as its accompanying visual Molly (Video).
Now with the album in stores, Cash Money's West Coast representer sat down with DJ Skee and Skee TV. Check out a couple clips from the interview below.
Tune in to Sirius XM 44 Hip-Hop Nation This Friday at 6pm EST for the full interview.