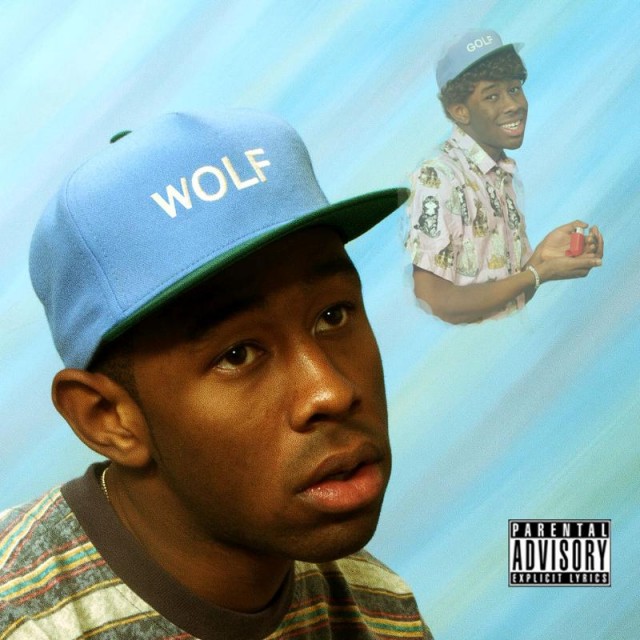 I feel like for context I need to tell ya'll that I feel this is Tyler, The Creator's strongest solo effort yet. Both Bastard and Goblin were unique and creative projects, however I felt both of those projects were hit or miss with me, meaning i was into some of the songs, but no so much some of the others. However Odd Future has been quickly becoming more and more dominant in my iPod. Whether its Domo Genesis's No Idols project or Earl Sweatshirt singles, and now Tyler's latest album, Wolf. Wolf is amazing in its musical composition, the collaborations are timely and suitable. Tyler's production is on point and there is very little about this album I didnt like, I'll tell you what, Good Kid, m.A.A.d City is an obvious favorite to win a lot Grammy's, however Tyler may snag some awards for this project too, and I can't be mad at that. Favorite tracks: Colossus, Partyisntover/Campfire/Bimmer, Slater, Parking Lot & Rusty.

Purchase: via iTunes
   
Rating: 4/5
…………………………………………………………………………………
Track by Track breakdown:
1. Wolf (Intro)
Interesting intro to start off this album. At this point I'm thinking, yes Tyler is onto something, the mere nonchalantness of this intro, makes me think, there is some ill shit to come.
2. Jamba (feat. Hodgy Beats)
A suitable track for Tyler to start off the project. Bizzarre bars, adlibs and an ill feature from Hodgy Beats to go with some ill Tyler bars in the form of ridiculousness like "Want a tip bitch? here's my dick for a grati-tuity).  3.5/5
3. Cowboy
Another ill dark beat with some surreal personal lyrics from Tyler where he just expresses his sentiments, "Had a blast out in Europe, had a swedish bitch lickin toast". Its tracks liek these where Tyler really excels, his angry flow is controlled and matched to the beat very well, great post-production on the vocals as well. 4/5
4. Awkward
Another dope track where Tyler gets into some story telling steez about past experiences with girls. Dope to see Tyler shift from one vocal tone to another from one track to another, dope complimentary background vocals from Frank Ocean on this track too. 4/5
5. Domo 23
This is the MTV video track that gets the controversial hits through its video, however technically, it also shows Tyler's ability on the mic. The hook gets repetetive, but verses are fire. 3/5
6. Answer
A dope track thats prolly the most down tempo on the album, pretty chill track, and it has a dope concept n Tyler spits some memorable bars. 3.5/5
7. Slater (feat. Frank Ocean)
This beat is ill, another signature Tyler track where he spits odd yet unique bars, the hook on this track is really dope. 4.5/5
8. 48
A dope chill hook, where Tyler spits some dope rhymes with ill cadences, about his influence as a artist, the hook suggests some mob kingpin type ish, however Tyler's verses provide more insight about what he's getting at, describing different ways people use to come up in the game, whether its chop shops, sellin blow, and remorse people feel afterwards. 3.5/5
9. Colossus
Another dope track in the style of "Cowboy" meets "Answer". Tyler spits about people coming up to him in public, and him not wanting to be an asshole, yet still feeling annoyed, etc. This is another one of those tracks that truly shows his creativity in uncensored emotion and lyricism described with a creative way of expressing these ideas. 4/5
10. Partyisntover/Campfire/Bimmer – (feat. Laetitia Sadier & Frank Ocean)
This gumbo of music is another one of the album's strengths. Tyler has really managed to create themed songs, and keep the youthfulness that OF fans are accustomed to, yet still mature in his lyrics and method of delivery. With these 3 in 1 track, PartyIsntOver sets the tone, Campfire is a creative rendition of what a campfire can represent, and Bimmer brings it all home with an ill soulful ending to the trilogy track, as Tyler explains how she reminds him of his bimmer. 4/5
11. Ifhy (Feat. Pharell) –
Another dark track where Tyler, as he says in the opening bars, just felt like "Getting emo and writing facts". This beat is ill tho, eerie production to go with unique delivery and good mixing effects on the vocals which enhance the track. This is a definite stand out track, 4/5
12. Pigs –
Some more "Yonkers" type ish, wit another eeri beat with some dope drums. Tyler's vicious spits here are show why he has the cult fanbase that he does. Some great moments here. 3.75/5
13. Parking Lot (feat. Casey Veggies & Mike G)
A smooth beat here, Tyler spits fire with sick adlibs (UHH, UMM…) and some atrocious yet highly entertaining lines. Casey Veggies drops an ill hook, while Mike G spits some dope bars on his verse. Tyler and Casey sound dope together on the hook.  4.25/5
14. Rusty (feat. Domo Genesis & Earl Sweatshirt)
Another dope chill beat, Tyler on his Alchemist tip here. All 3 emcees shine on this beat, seems like  Tyler's 2nd half of 2nd verse is even more enthusiastic, right after the beat switches, he steps it up a notch. Earl drops some really dope bars at end of the track that we have gotten accustomed hearing from him, with hilarious adlibs from Tyler. This track is an all around gem album cut. 4/5
15. Trashwang (feat. Na'kel, Jasper, Lucas, L-Boy, Taco, Left Brain & Lee Spielman)
A Dope collabo track that lets everyone take their turns goin in on the beat, with solid Tyler bars packaged around the crews spits. The chorus is a bit on the simplistic side, but a track like this is perhaps necessary for Tyler to put his crew on. Overall despite a very dope beat, this is one of the lesser tracks on the album. 3/5
16. Treehome95 (feat. Coco O. & Erykah Badu)
A very dope interlude which sees Coco O. & Erykah Badu vocals intertwined with his brilliantly over this ill beat he constructed. This is another highlight of the album. 4/5
17. Tamale
Although this is a very Tyler-like song, I wasn't huge on this. I felt like the sample was a bit overused and got on the annoying side, although some might find it creative haha, and Tyler's cadence, although comedic, gets a little old to me on this. 2/5
18. Lone
A dope ending to a pretty impressive album. I am sure tracks like this and "Awkward" and "Colossus" will grow on cats (and myself), as they have that effect of sounding better and better the more you listen to them. He spits some dope lines about his psyche and whats going on in his head. 3.5/5
Overall Rating: 4/5