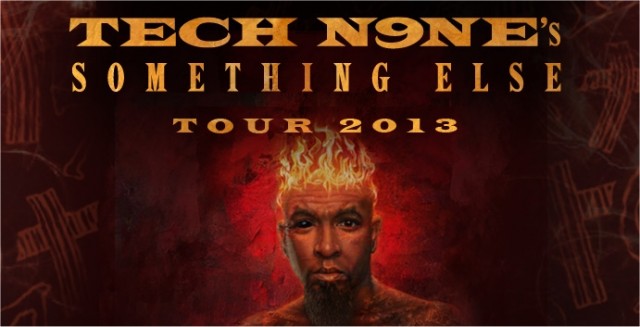 Today Tech N9ne has confirmed his "Something Else Canadian Tour 2013" and his "Something Else Tour 2013," which will travel the United States.
Both tours derive their name from Tech N9ne's forthcoming album, "Something Else", which is slated for a July 30 release.
The tour will see the Kansas City rap pioneer collaborating with a diverse roster of music superstars, including The Doors, Kendrick Lamar, CeeLo Green and Wiz Khalifa.
The 15-date Canadian trek features Tech N9ne's Strange Music labelmate Krizz Kaliko and launches August 15 at the Rockpile Bar & Club in Toronto, Ontario. It concludes August 31 at Evergreen Hall in Chilliwack, British Columbia.
The 47-city "Something Else Tour 2013" kicks off September 5 at Cains Ballroom in Tulsa, Oklahoma and wraps October 30 for a homecoming show at The Midland Theatre by AMC in Kansas City.
Tech N9ne built his Strange Music record company into an independent music powerhouse in part due to his nearly relentless tour schedule during the last decade-plus. His efforts have earned him loyal fans throughout the United States and the world. Tech N9ne toured with Jay-Z as part of the Sprite Liquid Mix Tour in 2002 and in 2012 completed the record-breaking "Hostile Takeover 2012 Tour," which became the longest continuous tour in rap history, clocking in with 90 shows in 99 days.
The "Something Else Canadian Tour 2013" and "Something Else Tour 2013" tour itineraries can be seen here.