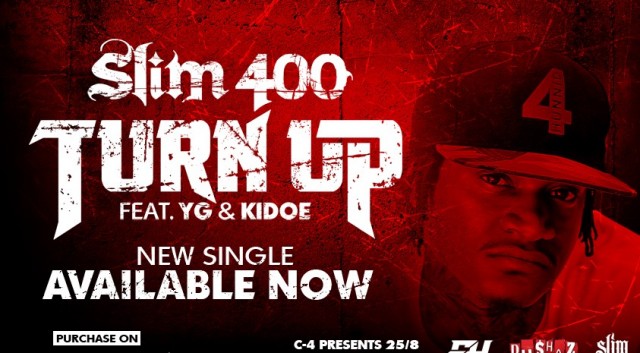 When it's time to let go and have a good time, it's time to Turn Up!  Enjoy life while you're here.  Each person does their Turn Up differently–clubs, parties, work, etc. and with that said; the next party starting anthem has arrived.  Slim 400 is ready to deliver the aptly titled song "Turn Up".  It's a catchy club banger with a hood twist laced with a trunk knocking beat from producer Trey Sizzle and a hook that will stick with you long after you've stopped listening to the song.  CTE / Def Jam artist YG and Kidoe join Slim 400 as feature appearances on the track.
The term 'Turn Up' has become part of pop culture and is open to interpretation these days as it is used so frequently.  With Slim 400 dropping this new single, he gives his definition as "having a good time, no matter where you're at.  You could be at your house by yourself.  I feel like you only live once; go all out.  Like they say; 'turn down for what!?'"
Slim 400 is a 2nd generation artist from the west side of Compton, California, the same neighborhood that bred Hip-Hop legend DJ Quik and current star YG.  Slim and YG first met hanging out in the streets.  At the time YG was developing the party / club sound he has become known for, while Slim brought more of a street edge to the table.  He considers himself to be more on the reality side, dealing with real situations in his music. "I'm speaking to the hood and what's going on within it."  The first track he and YG collaborated on was Slim's 2010 single entitled "Call It A Go".
In the music industry, timing is everything, and now is the perfect storm.  YG was already a Def Jam artist known for his hit "Toot It And Boot It", and recently signing to Young Jeezy's Corporate Thugs Entertainment, his buzz and brand continues to grow rapidly.  On the heels of his current success with his fast rising DJ Mustard produced single "My N**ga" featuring Young Jeezy and Rich Homie Quan (Peaked at #20 on Billboard Hot 100 / #5 Billboard Rap Singles), and also his appearance on the lead single "Act Right" from Yo Gotti's new album which also features Young Jeezy; today we present you with the new single from his Pushaz Ink ally Slim 400; featuring YG and Kidoe.  "Turn Up" already has a buzz in the streets and on the internet and will set the clubs and radio ablaze as it continues to spread.  The accompanying music video set to drop soon, will only enable it to grow at an even faster pace.
At press time, Slim 400 is currently on the nationwide Yo Gotti "I Am" tour with YG, as his official hype man.  In the studio Slim is working on a collaborative project with Budda Bad Azz called"Live 4rm The 400".  After YG's album "My Krazy Life" hits stores, they plan to hit the road on tour again, and then will release Slim 400's official debut solo album "Keep'n It 400".  His previous mixtape releases, "High Off Treez" Vol. 1 & 2, and "I Am What Thay Ain't" Hosted By YG are available for download free online.
"Turn Up" is now available on iTunes & all digital retailers. It is being released through Endless Hustle Entertainment in association with Pushaz Ink as a lead track for the upcoming compilation album C-4 Presents 25/8.  The project which boasts many great collaborations from across the country includes feature appearances by Twista, Yo Gotti, Dorrough Music, YG, Shawnna, Goldie Loc (Tha Eastsidaz), Spice 1, Dru Down, The Dayton Family, Kutt Calhoun, Gangsta Blac, Messy Marv, Snug Brim, T-Rock, San Quinn, Ric Jilla and many others.
[raw]
[/raw]
Follow Slim 400 on social media–Twitter (@officialslim400) Instagram (@slim400blk) Vine (slimfoeblk).