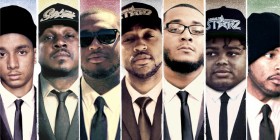 Westcoast platinum production group League Of Starz made their debut project titled "LOS.FM" – available via DubCNN.com earlier this year.
The project was stacked with hits and features an incredible endorsing intro from Snoop Dogg as well as musical collaborations with 2 Chainz, Wiz Khalifa, Jadakiss, Tyga, Problem, Iamsu, The Game, Trae Tha Truth, Clyde Carson, Jay Rock, Sage The Gemini, Bad Lucc, E-40 & Too Short.
"LOS.FM" is still available for streaming and download by clicking here.
League Of Starz have just dropped a NYE anthem with Problem & Bad Lucc which you can check out below.
League Of Starz – I Luv It (Feat. Problem & Bad Lucc) Audio

[raw]
[/raw]