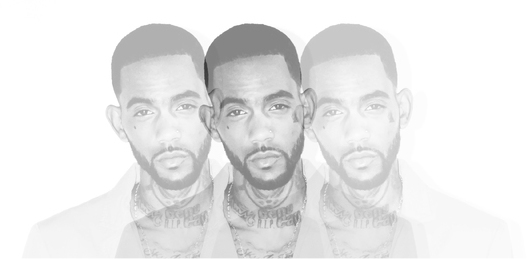 After months of hype DUBB can today released his highly anticipated "Never Content" mixtape via DubCNN!
Late last month he released the official trailer with cameo appearances by Nipsey Hussle, Dom Kennedy, DJ Carisma and more.
Over recent months we've also been able to bring you tracks including the Dupri & Jay Nari of League Of Starz produced "Runnin' To That Money", Emilio Rojas featured "Never Take Me Alive," "My Soul" featuring R&B duo Jake&Papa, "Winners Never Quit" with fellow LA native Yung Mars, "Ready" produced by YP Beatz and most recently "Silver Lining" produced by Remixx.
Last week we brought you the final promotional update, with his Freestyle For DJ Carisma's Blue Room Sessions and today we can release the full 16 track project including production by League of Starz, Remixx, Hidden Faces, and Chinky P –  along with guest appearances by Iamsu!, Nipsey Hussle, Skeme, Eric Bellinger, Glasses Malone, and Rayven Justice.
Listen or download below courtesy of the DubCNN Digital Distribution Network – no waiting, no pass-codes, no BS – just supporting the west-coast!
Dubb – Never Content (Mixtape)

[raw]
[/raw]
Dubb – Never Content (Tracklist)
01) Never Content Intro [Prod. By C.A.G Beats]
02) Fake Love [Prod. By Daniel Worthy]
03) She Gon' Roll It (Feat. Iamsu! & Rayven Justice) [Prod. By Hidden Faces]
04) California (Feat. G Malone & Skeme) [Prod. By Chinky P]
05) Set Trippin' (Feat. K Young) [Prod. By Kacey Khaliel]
06) Boss Talk (Feat. Eric Bellinger) [Prod. By League of Starz]
07) My Own (Feat. Rickie Jacobs) [Prod. By DEE C]
08) Don't Take Days Off (Feat. Nipsey Hussle) [Prod. By Remixx]
09) Fireworks & Champagne [Prod. By Remixx]
10) Porch Story [Prod. By MikE Dub]
11) RNB (Real Nigga Blues] [Prod. By Chinky P]
12) If I Wasn't Black [Prod. By Chinky P]
13) Save Me [Prod. By The Showboiz & Pops]
14) Get Away (Feat. Lamar Jay) [Prod. By Basement Beatz]
15) F*ck You [Prod. By DEE C]
16) Talk For A Minute [Prod. By Larry Jay]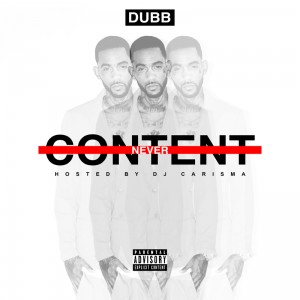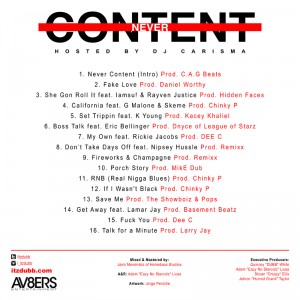 Ensure you check out his past releases Face Of California, The Departure and The Layover as well as videos for Music Is Love, Alpha & Omega, Where Do I Go, Stoned plus records including Hypnotized.