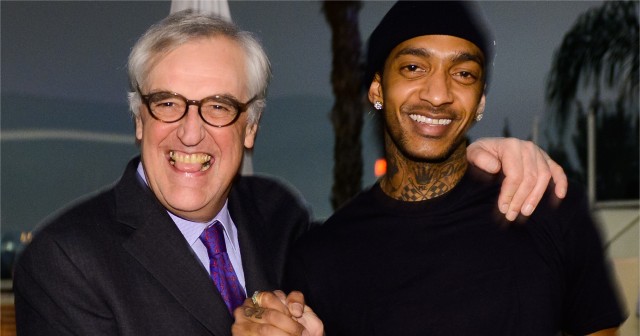 Last night, 8th generation of the Hennessy family and Global Brand Ambassador, Maurice Hennessy, hosted an intimate dinner at the luxurious Sunset Tower.
Key celebrities and tastemakers at the event included Nipsey Hussle, Punch of TDE, actress Lauren London, actor Jay Ellis and more.
Throughout the night, Mr. Hennessy mingled and engaged with Nip, Punch and guests, as they discussed the brand's legacy, France and how it's impacted music; particularly within Hip-Hop.
During the Maurice Hennessy Tasting Dinner, guests had the privilege to indulge in a Hennessy higher marques tasting including Hennessy X.O, Paradis, Paradis Imperial and Richard Hennessy. Maurice Hennessy introduced the influential group to the newest addition of the prestige range of cognacs called Hennessy Paradis Impérial, exclusively offered and adored by many cognac aficionados with an average price of $2,700.
The Paradis Impérial bottle is designed by French Baccarat designer Stephanie Balini and pays homage to the unique blend requested by the Empress of Russia in 1818, which served as a birthday gift to her son, Tsar Alexander I. Blending centuries of heritage with exquisite refinement, the release of this incomparable marque celebrates a 200-year old story steeped in elegance and tradition. The tasting was followed by a delicious dinner of cognac inspired bites, prompting some of the Hennessy V.S enthusiasts in the crowd to explore the full Hennessy range of products.
Maurice Hennessy Tasting Dinner Photos