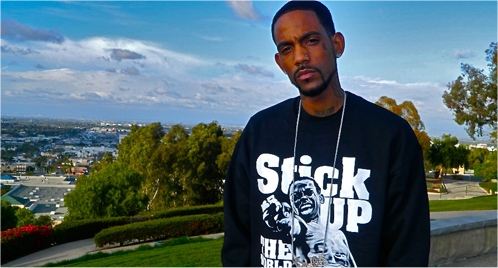 DUBB released his highly anticipated "Never Content" mixtape via DubCNN earlier this year.
The 16 track project featured production by League of Starz, Remixx, Hidden Faces, and Chinky P, plus guest appearances by Iamsu!, Nipsey Hussle, Skeme, Eric Bellinger, Glasses Malone, and Rayven Justice.
In the weeks that have followed he released the Indica Films directed visual for the track "Save Me" – and then official video for the Hidden Faces produced "RNB (Real Nigga Blues)" directed by Status Visuals.
Today he's put out footage from his sold out "Never Content Concert" live in Los Angeles, California featuring cameo appearances from DJ Carisma, Jake&Papa, Fe Raw, Lamar Jay, K Young, and the AV8ERS.
DUBB – Never Content Concert Live In Los Angeles, CA (Video)
Dubb – Never Content (Mixtape)

[raw]
[/raw]
Dubb – Never Content (Tracklist)
01) Never Content Intro [Prod. By C.A.G Beats]
02) Fake Love [Prod. By Daniel Worthy]
03) She Gon' Roll It (Feat. Iamsu! & Rayven Justice) [Prod. By Hidden Faces]
04) California (Feat. G Malone & Skeme) [Prod. By Chinky P]
05) Set Trippin' (Feat. K Young) [Prod. By Kacey Khaliel]
06) Boss Talk (Feat. Eric Bellinger) [Prod. By League of Starz]
07) My Own (Feat. Rickie Jacobs) [Prod. By DEE C]
08) Don't Take Days Off (Feat. Nipsey Hussle) [Prod. By Remixx]
09) Fireworks & Champagne [Prod. By Remixx]
10) Porch Story [Prod. By MikE Dub]
11) RNB (Real Nigga Blues] [Prod. By Chinky P]
12) If I Wasn't Black [Prod. By Chinky P]
13) Save Me [Prod. By The Showboiz & Pops]
14) Get Away (Feat. Lamar Jay) [Prod. By Basement Beatz]
15) F*ck You [Prod. By DEE C]
16) Talk For A Minute [Prod. By Larry Jay]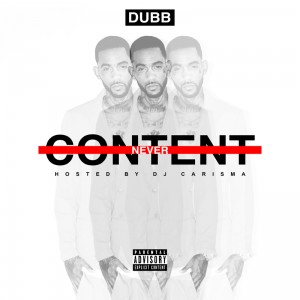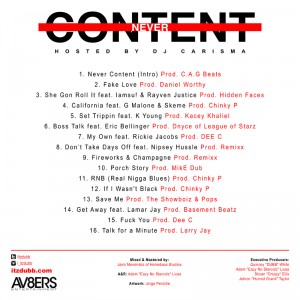 Ensure you check out his past releases Face Of California, The Departure and The Layover as well as videos for Music Is Love, Alpha & Omega, Where Do I Go, Stoned plus records including Hypnotized.