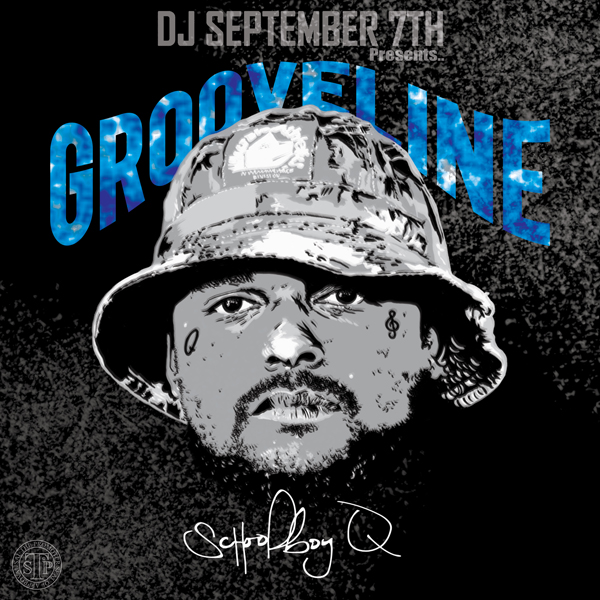 It's been a little over six months but DJ September 7th is back with a brand new tape for the masses!
Across 2013 he dropped Slaughterhouse – House Arrest, the 49ers "#QuestForSix" mixtape and then the Kendrick Lamar "King Of New York" project.
Now DJ September 7th has turned his attention to fellow TDE representer ScHoolBoy Q for "GrooveLine." With "OxyMoron" now in store "GrooveLine" brings together a compilation of previous collaborations and songs prior to his debut album release – some classic tracks in this!
DJ September 7th – ScHoolBoy Q "GrooveLine" (Mixtape)


[raw]
[/raw]

DJ September 7th – ScHoolBoy Q "GrooveLine" (Tracklist)
01) Cali Untouchables Groovy Intro (Prod. by Julian Ramirez)
02) Banger (Mosh Pit)
03) Druggys Wit Hoes Again (Feat. Ab-Soul)
04) Loaded
05) To The Beat
06) Yay Yay (September 7th RMX) (Feat. Omino Jakku)
07) Dope Fiend Rental (Feat. Danny Brown)
08) Unecessary (Prod. by Childish Gambino)
09) Kids With Guns (Feat. Skeme)
10) Party (Prod. by Kenny Beats)
11) Food Savers & Scissors (Feat. Cyhi The Prince) (Prod. by Beat Billionaire)
12) Hell Of A Night
13) The Recipe (Black Hippy RMX) (Prod. by Scoop DeVille)
14) Man Of The Year
15) Shit (Feat. Future)
16) Kendrick Lamar Interlude
17) There He Go
18) Collard Greens
19) Ruthless
20) America (Feat. Boaz)
21) Demolition Men
22) 6'7″ (Feat. Kendrick Lamar)
23) Brainstorm (L.A. Leakers)
24) Crazy
25) Shot You Down (Feat. Isaiah Rashad & Jay Rock)
26) Fuck Ya Hip Hop (Feat. Big Pooh & Murs)
27) All My Ni**az (Feat. E-40 & Danny Brown)
28) (BONUS) She Like
29) (BONUS) Jay Rock (Feat. Kendrick Lamar) To The Top (Prod. by Mano)
30) (BONUS) Californication
| | |
| --- | --- |
| | |
If you missed DJ September 7th's past mixtapes, get them all via our Digital Distribution Page!