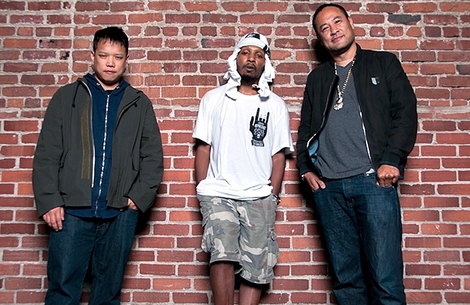 Bulk Records have released the visual for "Do You Remember," from Deltron 3030's 2013 LP Deltron 3030: Event II.
The video features an old man in a futuristic wheelchair/rocketship, spliced with clips of Del rapping on the beach – it's as bizarre as it sounds…but it's dope.
The Jamie Cullum featured track appeared on "Deltron 3030: Event II" which we released the single for last year, and has gone on to received much praise from countless outlets.
Deltron 3030 (rapper Del The Funky Homosapien, producer Dan "The Automator" Nakamura and DJ Kid Koala) are also heading out on tour this summer, starting at the iconic Glastonbury Festival in the UK an ending back in the US after dates in Europe and Canada!
Check the full dates below the video!
Deltron 3030 – Do You Remember (Feat. Jamie Cullum) Video
Deltron 3030 Tour Dates (2014)
6/27 – Glastonbury Festival – Pilton, UK *
6/28 – Hippodrome D'Evreux – France
6/29 – Garorock Festival Marmande – France
7/6 – Montreal Jazz Festival – Montreal, QC *
7/12 – Ottawa Blues Festival – Ottawa, CA
7/13 – Westcott Theater – Syracuse, NY
7/15 – The Altar – Pittsburgh, PA
7/16 – The Carolina Theatre – Durham, NC *
7/17 – World Music Café – Wilmington, DE
7/18 – Sound Stage – Baltimore, MD
7/19 – Celebrate Brooklyn – Brooklyn, NY *
7/20 – The Stone Pony – Asbury Park, NJ
* – with the 3030 Orchestra