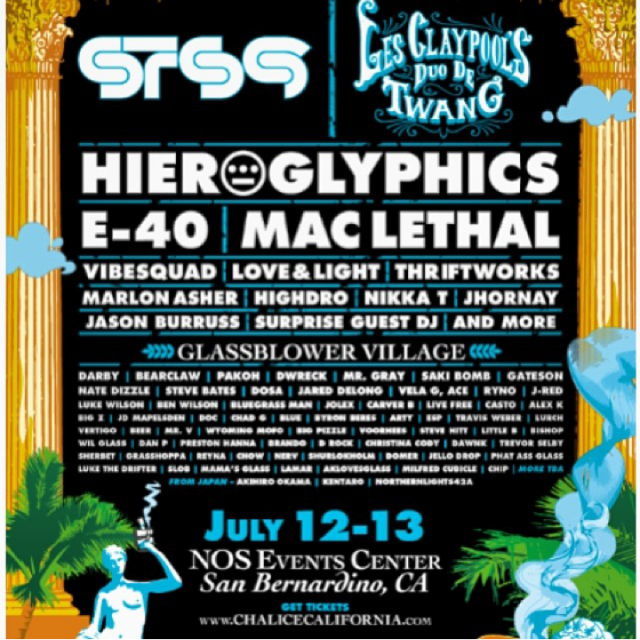 The Chalice California Festival makes its debut at the NOS Events Center in San Bernardino, CA on July 12 and July 13, 2014.
Presented by Hitman Glass – producer of innovative water pipe technology- this 2 day event highlights glass, music, and medicine.
Live music will feature performances from headliners STS9, Les Claypool's Duo De Twang (on their only California tour stop), Hieroglyphics and E-40, along with Mac Lethal, Vibesquad, Love & Light, Thriftworks, Marlon Asher, Highdro, and more still to be announced.
In addition to the musical performances, Chalice California will feature Live Glassblowing by some of the world's most renowned artists. Over 75 talented glassblowers are slated to participate, including Darby, Bearclaw, Pakoh, DWreck and Mr. Gray, along with Japanese Flame Blowers Akihiro Okama, Kentaro, and NORTHERNLIGHTS42a.
Tickets for CHALICE CALIFORNIA are available now via EventBrite. Saturday tickets are $40, Sunday tickets are $50, and a two-day pass is $70. Visit the website and RSVP to the Facebook Event Invite for continuous updates, announcements, and promotions.
DubCNN will also be giving away (2) pairs of two-day GA tickets very soon so stay tuned and ensure you Like DubCNN on Facebook and follow on Twitter.
CHALICE CALIFORNIA 2014 LINE-UP
STS9
Les Claypool's Duo De Twang
Hieroglyphics
E-40
Mac Lethal
Vibesquad
Love & Light
Thriftworks
Marlon Asher
Highdro
+More TBA
LIVE GLASSBLOWER ARTISTS
Darby
Bearclaw
Pakoh
DWreck
Mr. Gray
Saki Bomb
Gateson
Nate Dizzle
Steve Bates
Jared DeLong
ACE
Ryno
Also featuring Japanese Flame Blowers: Akihiro Okama, Kentaro, & NORTHERNLIGHTS42a
For the full list of Live Glassblower Artists, visit www.ChaliceCalifornia.com
VENDOR VILLAGE PARTICIPANTS
Hitman Glass
RigRags
Weedmaps
Skilletools
Sheldon Black Sohiyo
Emerge with Puff & Dabs
Highly Educated
GlassBlower Village Booths
420 TreeHouse
Hive Ceramics
Angie's Boutique
Puff Extracts
Rooster Apparatus
Nexus and VMC
Pipeline
Miss Mary Jane
BHOgart
HGH
Sokol
For the full list of Vendor Village Participants, visit ChaliceCalifornia.