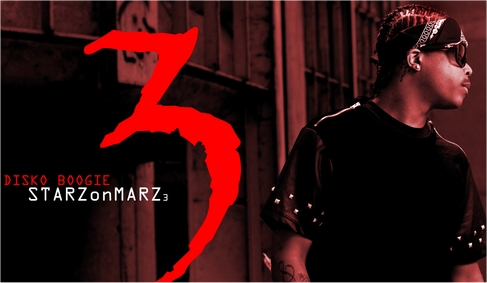 That's right – Inglewood Producer/Artist Disko today drops the long awaited third installment in his Starz On Marz series!
The first Starz On Marz featured Good Year featuring B!zness, Serve Dat with Problem, Salute B*tch with Mz Shay and Cali Luv with Khase & Baby Dee.
Then a little over a year ago he dropped Starz On Marz 2 – another free 24 track project for stream or download right here on DubCNN! The release features appearances from Kurupt, Khase Dee, Shorty Mack, B!zness, Brandon Mac, Cali Swag District, Kemani, Kris Dime, Diamond Ortiz, Mac Lucci and more!
Today he's back after months of hype right here on DubCNN, singles including the Me Me featured "F*ck Iz These N*ggas On," the radio smash hit "Choosey" featuring E-40 and Ty$, "Inglewood" feauring Big Wy where the duo rep their hometown city and earlier this week "Tell Dat N*gga" featuring AV LMKR & Avenue OB.
Today you can get the full 21 track stream or download courtesy of Disko and DubCNN featuring appearances from AV LMKR, Big Wy, Clyde Carson, E-40, Emilio Rojas, KC Why Not, Kemani, Meaku, Problem, Skeme, Ty$, Young Sam and more! We also urge you to pre-order the deluxe edition via iTunes – due out July 1st!
Disko – Starz On Marz 3 (Mixtape)

[raw]
[/raw]

Disko – Starz On Marz 3 (Tracklist)
01) StarzonMarz3
02) Tell Dat Nigga (Feat. Av Lmkr & Avenue OB)
03) Rell Skit 1
04) I Be On My Shit (Feat. E-40)
05) We Just Gettin Started (Feat. KC Why Not)
06) Choosey (Feat. Ty$ & E40)
07) Money Make Her Do It (Feat. Baby Dee & Young Sam)
08) Fuck Sleep
09) She On It (Feat. Meaku)
10) All My Goons Is On (Feat. Slim 400 & Killa Twan)
11) Gold (Feat. Emilio Rojas)
12) 50 Million
13) Rell Skit 2
14) Fuck Nigga (Feat. Clyde Carson)
15) Flirtation (Feat. Kemani)
16) LNF (Feat. Kemani)
17) Cali Tippin (Feat. Young Sam)
18) New World (Feat. Me Me)
19) Inglewood (Feat. Big Wy)
20) E40 – Turn Up Or Burn Up (Feat. Disko Boogie, Skeme & Problem)
21) 20th Of July
Download Starz On Marz and d Starz On Marz 2 today and don't forget to check out Disko on Twitter by clicking here or on DiskoBoogieTV.