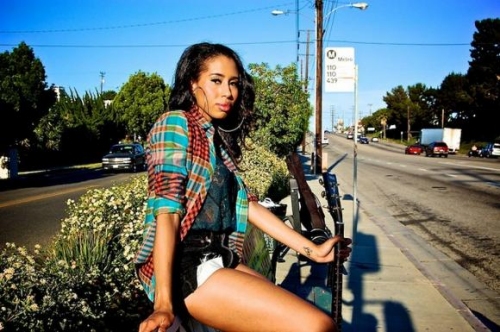 LA songstress Kay Cola is back after a hiatus on DubCNN with a Free EP and a new remix!
KC first featured on DubCNN in January last year with the track Damn and her 7 track EP/mixtape "7" with appearances from Bad Lucc, Problem, K Roosevelt and Freddy Hefner.
Later in the year we dropped the single "River (Water)" (and music video) off her EP "The Fifth Element" featuring Jayant (Juvenile, Iamsu!), Shonuff (Slow Down by Clyde Carson etc), Don City (Shots Fired, By Tank & Chris Brown) and Kacey Khaliel (2Chainz, Problem etc).
Last time out we premiered her record featuring Problem and produced by Diamond Lane Music Group's Branden Beatboy – called "I Want You."
Kay is back today with a brand new remix AND a six track EP! First up we can drop her "REM EP" which features eclectic melodies over R&B, Electronic, and 808s – be warned though her sensual and sultry tone lures you into her dream world and invades yours!
The EP is a little taste of what Kay Cola will bring on her highly anticipated album "Nightmares and Lucid Dreams," listen below!
Kay Cola – REM EP


[raw]
[/raw]
Next up is a remix of "Soft Kisses" that features Joe Moses over a Jay Ant of THE INVASION production, listen below!
Kay Cola – Soft Kisses (Remix) Feat. Joe Moses

[raw]
[/raw]
Comment below and follow Kay Cola on Twitter.