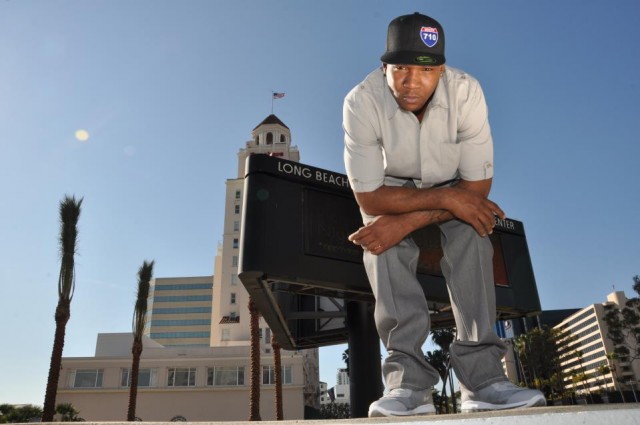 Quictamac is not a new name to West Coast heads! The Long Beach artist was signed to Def Jam from 1994 to 1998.
He featured on tracks like "12 pac of Doja" from Lil Half Dead's 1994 album "The Dead Has Arisen" and "Who Smokin" with Redman.
Last month he returned with a new album, "Passport Only," and managed to land features from Snoop Dogg, Soopafly, E-White, Bo-Roc, Bad Azz, Ammo, Westcoast Stone, Knehi, Natural Red, Von Jackson, XL Middleton, B-Man, B. Thompson and many more.
Not only that but Quictamac – who has never hesitated in working with talented artists from abroad – also lined up MC Mighty (Africa) and Two-J (Japan – who worked with DJ Quik) for the album.
We asked Quictamac about putting the album together and he told DubCNN;
I really wanted to include different influences from all the places I've visited or went to perform to mix with my Cali roots, without always just incorporating that traditional west coast sound. [I] regrouped producers from all over the globe starting with the well known Westcoast Stone (Cali), DAC beats (Brazil), the well known rapper-producer from Japan (Two-J), B-Man (Cali), and a bunch of experienced producers from France like Cartelsons, Sovan and last but not least Laidback Sounds who helped [me] to shape the sounds by producing a few tracks but also mixing and mastering the full album.
We know West Coast music fans and G-Funk lovers alike are going to dig this album over the summer and we wanted to give it some shine. You can cop the album on iTunes or direct from his website but first we can bring you the Snoop Dogg and B.Thompson featured "Blame It On Me" single – produced by Laidback Sounds – as a taster of the album!
Quictamac – Blame It On Me (Feat. Snoop Dogg & B.Thompson) Audio

[raw]
[/raw]
Quictamac – Passport Only (Tracklist): Download on iTunes.
01. Take You To A Place (Intro) Feat. Bo-Roc and Ammo (Prod. by DAC Beats)
02. Grown Up Feat. Westcoast Stone (Prod. by Westcoast Stone)
03. Down For My Family Feat. MC Mighty (Prod. by Laidback)
04. 710 South Airlines Skit (Prod. by Laidback)
05. Can You Feat. B-Man and Jay Cribbs (Prod. by B-Man)
06. Good Life Feat. Two-J and B. Thompson (Prod. by Two-J)
07. Freaky Tonight Feat. Bo-Roc, E-White and Natural Red (Prod. by DAC Beats)
08. Dear Daddy Feat. Bo-Roc (Prod. by DAC Beats)
09. Good Old Dayz Feat. Von Jackson (Prod. by Cartelsons)
10. Can't Turn Back Feat. Sly Boogy and Von Jackson (Prod. by Cartelsons)
11. Ice Cream Truck Feat. Soopafly and Ammo (Prod. by Westcoast Stone)
12. Baby (Prod. by DAC Beats)
13. DJ 2High Skit
14. I Just Can't Do It Feat. Bo-Roc (Prod. by Cartelsons)
15. Blame It On Me Feat. Snoop Dogg and B.Thompson (Prod. by Laidback)
16. Money Feat. Ammo and Knehi (Prod. by Cartelsons)
17. Life Is Not A Game Feat. Westcoast Stone (Prod. by Westcoast Stone)
18. You Can Go Feat. Westcoast Stone (Prod. by Westcoast Stone)
19. She Wanna Ride Feat. Bad Azz and T.R.O.Y (Prod. by Westcoast Stone)
20. Players Codes Feat. XL Middleton (Prod. by Sovan)
21. 710 South Airlines Outro (Prod by Laidback)