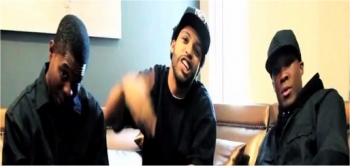 In late June we announced that the upcoming N.W.A. biopic had finally confirmed the actors to play Cube, Eazy and Dre,
Ice Cube, Dr. Dre and Eazy-E's widow Tomica Wright, had been casting "Straight Outta Compton" alongside director Gary Gray (Friday).
Last time out we were able to bring you the press photo of the cast  Marcus Callendar (as Dr. Dre), Jason Mitchell (for Eazy-E) and Cube's own son, O'Shea Jackson Jr., alongside Ice Cube, director Gary Gray and Dr Dre.
With the movie now penciled in for release in a little over a year – 8/14/15 – yesterday Ice Cube congratulated the cast and crew of the upcoming movie for starting principal photography – watch his instagram clip of the cast, Dre and Cube on set below!