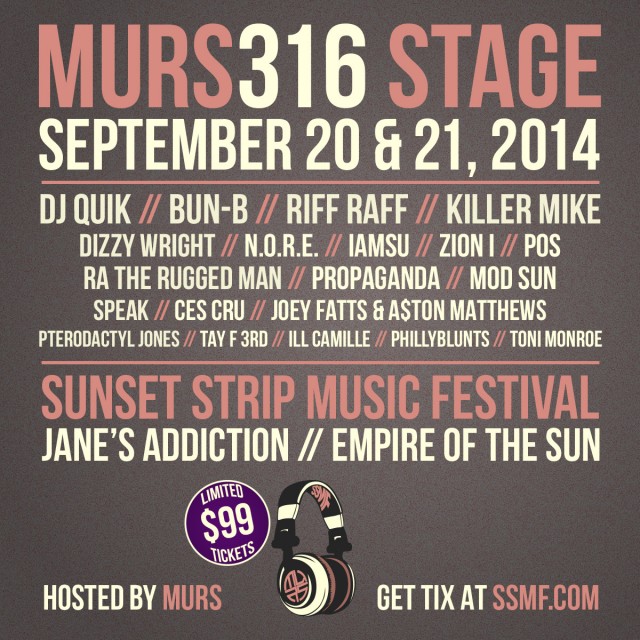 Earlier this month we confirmed that rapper/entrepreneur MURS will curate the MURS 316 Stage at this years Sunset Strip Music Festival!
In that update Murs announced he would personally select artists to perform at the two-day event on September 20 and 21.
Today the full line-up for the MURS 316 Stage at the 7th annual Sunset Strip Music Festival has been confirmed!
The state will be curated and hosted by MURS is set to feature headliners Bun B and Riff Raff on Saturday September 20 and DJ Quik and Killer Mike on Sunday, September 21. Other artists performing will include Dizzy Wright, N.O.R.E., IAMSU, POS, Zion I, Mod Sun, RA The Rugged Man and many more.
The two-day street festival will include three outdoor stages, interactive experiences, food, beverage and much more, transforming The Sunset Strip into the ultimate concert destination. Sunset Boulevard will be closed to traffic between Doheny Drive and San Vicente Boulevard from 2:00-11:00 p.m. on Saturday and 2:00-10:00 p.m. on Sunday.
For a limited time only, SSMF has set a $99.00 discounted price point for MURS fans attending on both days to purchase tickets through EventBrite at and typing in the promo code SSMFMURS.
DubCNN will be a media partner so get ready for a ticket giveaway! See the full line up below and let us know if you're gonna be there!
Updated 10th September 2014: Team SSMF decided to drop down the Murs ticket price. $79 two-day GA Code: SSMF14MURS Link: http://bit.ly/SSMFMURS